There were lots of great ideas shared last week.  Here are just a few:
School Time Snippets shares this Color Sorting Velcro Tower.  What a fun idea!
Celebrate St. Patrick's Day with these Magic Leprechaun Rocks from Gift of Curiosity.
Pink Stripey Socks shows you how to create a speaker for your iPod/iPhone using a cardboard roll and plastic cups.  This would be a fun "craft" for little kids and a great opportunity to talk about the science of sound with big kids!

Have an idea or activity to share??? Link up below! Next week I'll be sharing my favorites from the ones you submit!
Feel free to add the button to the post you're submitting if you would like!  Just save the image below and add a link to the homepage (http://wwwicanteachmychild.com).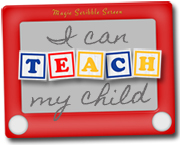 *By linking up, you are granting me permission to use and/or repost photographs from your blog.
Can't see the link-up?  Go here.