10 Ways Children Can Honor Veterans
Showing respect and appreciation for veterans and active duty military is something each of us should take seriously. Check out these 10 Ways Children can Honor Veterans!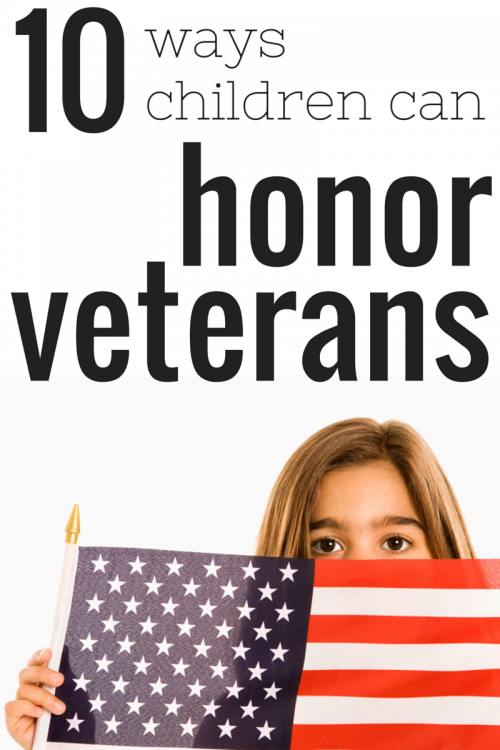 If you live in the United States, you might know that November 11 is Veterans Day. Both of my grandfathers are Veterans–one served in the Korean War and the other in World War II. They both made great sacrifices for the betterment of our nation and for the freedoms that we enjoy today.
My Papa (who served in the Korean War) is the most patriotic man I know. He is truly a hero in my book and I am blessed by his example. He continues to serve his country by staying active in various political organizations and writing articles in his local newspaper.
I asked my Papa to share some things that he felt we can do to encourage our children to honor veterans. Below is what he shared:
1. Keep veterans and active duty military in your daily prayers.

2. Attend all military Veteran parades and bring a flag to wave.

3. Wave at them everywhere you see them in uniform.

4. Place a flag in your yard every holiday.

5. Thank veterans for their service, and tell them you are proud of them.

6. Cover your heart with your hand (or hat) when saying the pledge of allegiance or singing the Star Spangled Banner.

7. Honor the flag of the United States–by facing it when in passing and not letting it touch the ground.

8. Support Veteran's organizations in any way you can.

9. Volunteer to help put flags on military graves on Memorial Day.

10. Take every opportunity to speak with veterans and listen to their stories if they are willing to share them.
MORE IDEAS…
13. Write thank you notes to veterans.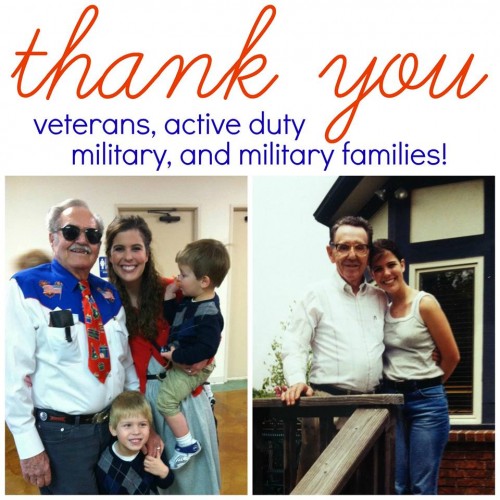 Sadly, my other grandfather (pictured on the right) died in 2004 and I regret not taking the opportunity to ask him questions about his service and express my utmost appreciation for the sacrifices he endured.
How do you and your family honor veterans???