Fun Activities For 3 Year Olds To 5 Year Olds
The kindergarten and preschool years are characterized as the age of pretend play… In the mind of a 3, 4 or 5 year old child, they can be anyone or anything they want to be. Whether it is an astronaut walking on the moon or a princess waiting to be rescued by a big, bad dragon, your child's creativity is at its finest in these years!
So if you have been asking yourself, "What do I teach my 3 year old at home?", use these learning activities as a guide for fun lesson plans for your little one through play.
The following simple learning activities for 3 to 5 years old are specifically targeted for your "little Einstein", broken down into the appropriate domains of early childhood development. Be sure to also check out our thematic units page for activities broken down by theme (dinosaurs, transportation, apples, etc).
Wanting to prepare your child for Kindergarten? Find out what to teach a 3 year old in this post>>> 71 Things Your Child Needs to Know Before Kindergarten!
Please note:  These activities are simply suggestions for what the author believes is appropriate for this age. Please use your best judgement and consult your pediatrician when you have questions or concerns.
Activities for 3 Year Olds To 5 Year Olds
Language Development Activities for 3-5 Year Olds
Start with this…
Dr. Seuss ABC Letters in Shaving Cream
Letter Recognition using Cheez-Its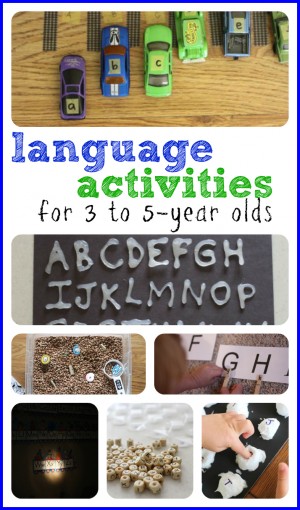 Letter Scavenger Hunt at the Park
Magnetic Capital and Lowercase Letter Matching
Making Letters in Cranberry Sauce
"One Fish, Two Fish, Red Fish, Blue Fish" Fishbowl Craft
Reading Comprehension Beach Ball
Sight Word Activities for Kids
Watching TV to Improve Your Child's Reading Ability?
Wordless Picture Books:  Their Hidden Value
Cognitive Development Activities for 3-5 Year Olds
Animal Cracker Counting and One-to-One Correspondence Practice
"April Showers" One-to-One Correspondence Activity
Biggest to Smallest with Dinosaurs
Best Board Games for 3 to 5 Year Olds
Chicken Beak Counting & Guessing Game
Christmas Box Counting & Number Matching
Counting Up to Big Numbers with an Abacus
Domino Addition with Dot Markers
Invent Your Own Bubble Wands from Kitchen Tools
Learning Based on the Interests of Your Child
Mixing Colors {in a most unique way}
Mixing Colors with Water Balloons
People, Places, Things Farm Sort
Plastic Baggie "My Shapes" Book
Sorting a Snack with Dinosaur Teeth
Story Sequencing {The Little Old Lady Who Was Not Afraid of Anything}
Summer Math Fun for Preschoolers and Kindergartners
"Why are there craters on the moon?" Experiment
"Why do I need to wear sunscreen?" Experiment
"Will It Slide?" Science Experiment
Fine Motor Development Activities
"Cloudy with a Chance of Meatballs" Sensory Play
Christmas Sticker Letter Tracing
Fine Motor Practice (Before Dinner)
Pounding Golf Tees into a Pumpkin
Sensory Tub with Shredded Paper
Vertical Writing with Window Markers
Gross Motor Development Activities
Balance Beam with Fiery Leaves
Social and Emotional Development Activities for 3-5 Year Olds
"Feelings" Matching and Memory Game
Spiritual and Moral Development Activities
Apple Garland (The Fruit of the Spirit)

Apple Theme Sensory Tub
Apple Turkey

Autumn Tree

Balloon Terrarium
Butterfly Tie-Dye Craft

Candy Wrapper Snowflake
Leaf Bracelet

Leaf Rubbing (Personalized)
Penguin Puppets

Race-Car Snack

Rain in a Jar
Santa Says

Save, Spend Give Coin Bank
—————————————————————————————————–