31 Days of Indoor Activities for Toddlers
Starting today (January 1st), I will be starting a new series featuring 31 Days of Indoor Fun for Toddlers! Some toddler ideas will be simple and some will be more complex, but all will be fun (and indoors…perfect for the cold, blistery, wintery days).
Many activities will be shared as new posts on the blog, but some will only be shared on Instagram. If you aren't already following me, you can find me here. You can also follow the hashtag #31daysofIndoorToddlerFun. Please also use the hashtag to tag your own photos as you participate with us!
I'll update this landing page as each new idea is shared!
31 Indoor Activities for Toddlers
2. Bean Sensory Tub for Toddlers
3. Parachute Play for Toddlers
6. Painting with Water on Cardboard
7. Mess-Free Process Art for Toddlers
9. Building towers with Jumbo Blocks
10. Dropping Caps in a Baby Wipes Container
14. Fill the Snowman Fine Motor Game
15. Printable Cereal Sorting Mat
16. Playing with Kinetic Sand
17. Fine Motor Play with a Strainer and Pipe Cleaners
24:  Slide into a Baby Pool with Ball Pit Balls
26. Scooping and Pouring with Edible Water Beads
27. Birthday Cupcake Pretend Play
28. Slide Painting
29. Clothespin Drop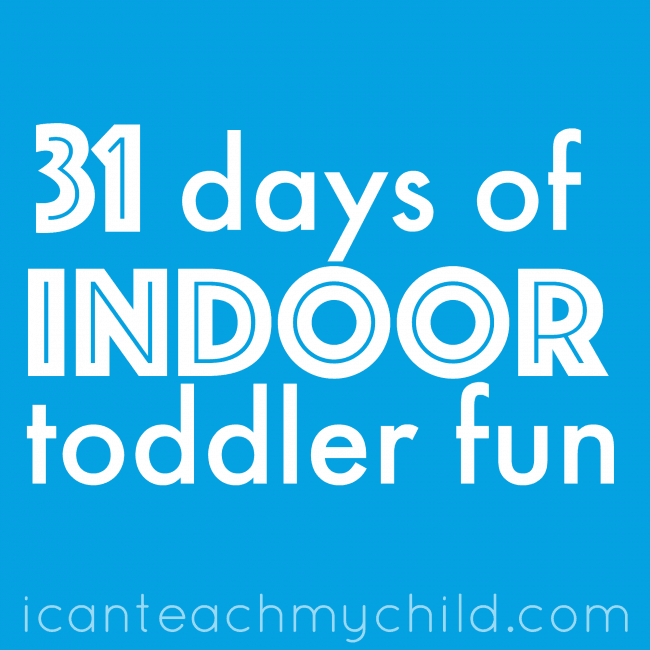 More Fun Toddler Activities