A Proverb A Day Handwriting Practice
Summer is quickly approaching and although I fully intend to let my kids be bored, I also wanted to have some meaningful work for them to do. Both of my boys struggle in the handwriting department (even after all our fine motor activities over the years), but one child has especially atrocious handwriting. Instead of buying a workbook with arbitrary sentences to copy, I decided to make my own handwriting practice using scriptures from the book of Proverbs.
The book of Proverbs is full of tiny nuggets of wisdom for people of all ages, but I went through the whole book and picked out the scriptures that I felt resonated most with kids my boys' age. I'm planning to set these out every night and will have the boys work on them during/immediately after breakfast. Since I am such a bum in the mornings, my husband often eats breakfast with the boys. I thought this would be a great opportunity for some father-son wisdom imparting in addition to handwriting practice. Plus, Proverbs happens to be one of my husband's favorites…so it is a win-win all around (minus the handwriting part- haha!).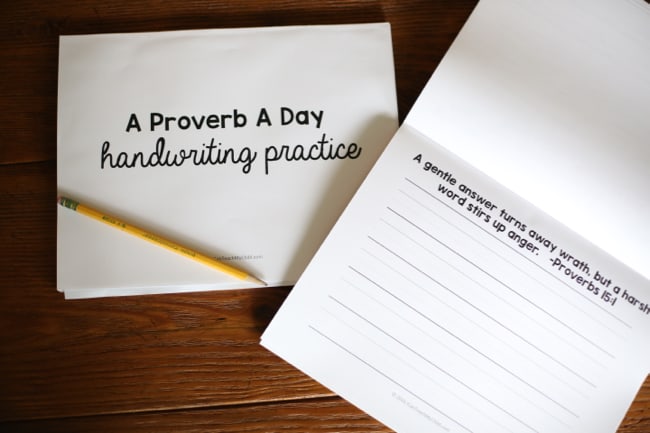 Is your child headed to kindergarten this fall? Or have you ever wondered what your younger kiddo should know? Check out my brand new eBook Getting Ready for Kindergarten: