Alphabet Parking Lot: Matching Capital and Lowercase Letters
One of the boys' favorite things to play with is cars. They spend hours playing with their assortment of Hot Wheels and Matchbox cars. Little Brother used to be the only car lover, but he has now passed along his love for cars to his Big Brother.
I was able to harness their love for cars into a fun activity where they can play and learn simultaneously! This has definitely been a hit…and I'm planning to leave it up for a while so that they can continue to play with it!
Here's what you'll need:  tape (I used some extra washi tape I had, but I would suggest using painter's tape–be sure to test it on your floors first to make sure it won't peel off the finish), scissors, and toy cars. You could also use a posterboard instead of putting tape directly on your floors!
 1. Cut pieces of tape into 2-inch segments. You'll need 28 pieces of tape.
2. Lay a long piece of tape along the wall and then make your "parking spaces" using the 2-inch pieces of tape.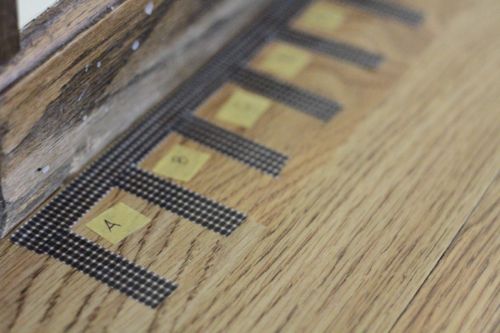 3. Write capital letters on small pieces of tape and add to each parking space.
 4. Write lowercase letters onto small pieces of tape and add them to the tops of your toy cars.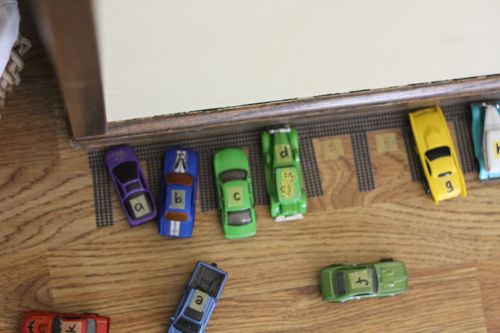 5. Let your child start "parking" the cars in their corresponding space.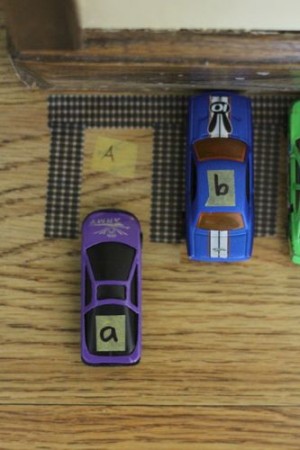 Check out more alphabet activities here and on our Pinterest board!