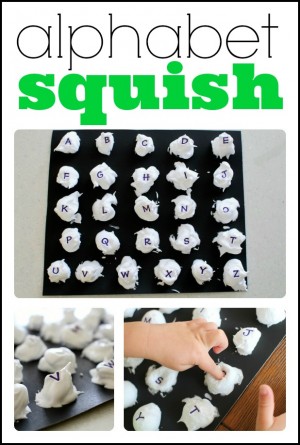 This Alphabet Squish activity was actually a spin-off of our Puffy Planets. Little Brother was more fascinated with the puffiness than the actual planets. Much to his brother's utter dismay, he squashed many planets to feel the unique texture of the dried glue and shaving cream mixture.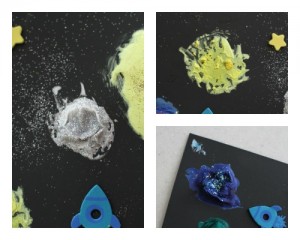 I thought I would put that fascination to good use with the help of some alphabet stickers to review the letters. It turned out to be a beloved activity…even though it only lasted a few minutes!
Here's what you'll need:  shaving cream, liquid glue, alphabet stickers, craft sticks, and poster board.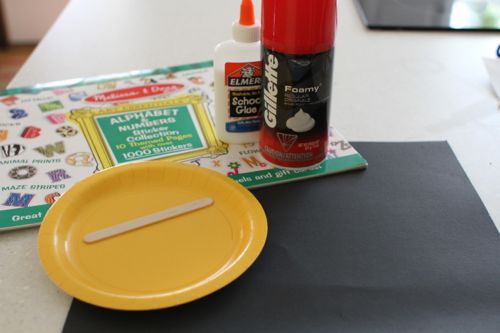 I used the smaller stickers on the last page of the Melissa & Doug Alphabet Stickers.
 1. Mix the shaving cream and glue together. I typically mix about 4 parts shaving cream to 1 part glue.
 2. Use a craft stick to make small drops of the shaving cream mixture onto the poster board. I made 26 small drops.
 3. Add an alphabet sticker to the top of each "cloud".
 4. Let dry. We let ours dry overnight.
5. Grab your eager beaver.
6. Call out letters and have him/her squish the correct one. Or you could let him/her call out the letter as he/she is squishing!
Big Brother wanted to try punching the letters…he's such a boy! :)
After only a few minutes, this was all that remained. :)
Check out more fun alphabet activities or take a look at our Alphabet Pinterest board.