Alphabet Target Practice with Water Guns
Even though the calendar says it is still spring, we are in full SUMMER mode now that school is out! For day 29 of our 31 Days of Outdoor Activities for Toddlers, Little Sister had some fun with this Alphabet Target Practice with Water Guns.
Not only is this activity great for introducing and reviewing letter names (and even sounds), it is also great for fine motor control as your child will have to use the small muscles in his/her hands to pull the trigger on the water gun while also aiming it to try and hit the alphabet targets!
We were inspired by these Ping Pong Ball Nerf Targets from Frugal Fun for Boys and Girls for this activity.
Alphabet Target Practice Supplies:
Piece of Styrofoam
Permanent Marker
(FYI- Ping pong balls make a fun and inexpensive learning manipulative! Check out more fun ways to learn with ping pong balls here.)
1. Use a permanent marker to write capital letters on one side of the ping pong balls and the corresponding lowercase letter on the backside. You could spell your child's name…but since my daughter's name only has 3 letters (2 letters used twice) I decided to just do the first few letters of the alphabet instead.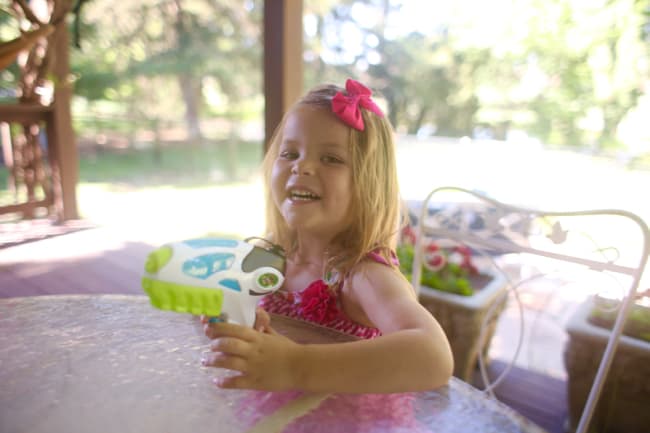 2. Give your little one the water gun. Little Sister was super excited!
At first it was all fun and games…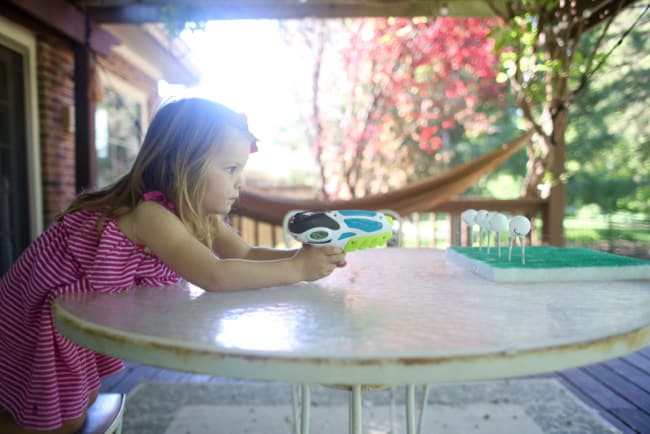 Then things got serious! :)
This picture is my absolute favorite because it captures her personality so well!