Watching a seed grow into plant is so fun for kids! But if you've got a black thumb like me, you might forget to water it! This is a fun family project that everyone can participate in!
We made this Balloon Terrarium last weekend and I was so excited to share it with you…but I've been waiting to post a picture of the grass actually growing. Sadly, I don't think we added enough water and it's not going to grow. We're going to try again, though, so when I get a picture I'll update!
Here's what you'll need: a clear or semi-transparent balloon (I got ours at Party City for $0.19 each), potting soil, seeds of some kind (we used grass seed because we already had some here at home), a funnel, and water.
1. Insert the funnel into the balloon.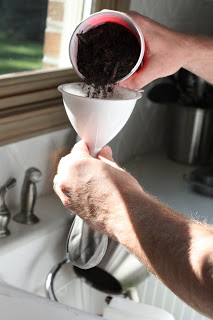 2. Let your little one pour the dirt into the funnel.
3. If you want, add a little dinosaur in there too!
4. Add water. This is where we went wrong. We just let it barely dribble. I would suggest adding about 1/4 cup water.
5. Blow up the balloon. We wanted Big Brother to feel like he was contributing…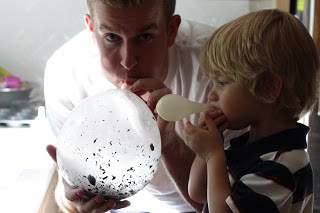 6. Tie it off and place it in a sunny spot. The orange thing in there is our plastic dinosaur
Watch it grow (that is…if you put enough water in it to begin with). If you have older children in your home, you can talk about the water cycle. And the best part is…you don't have to remember to water it!
Literature Link