Books of the Bible Activities For Kids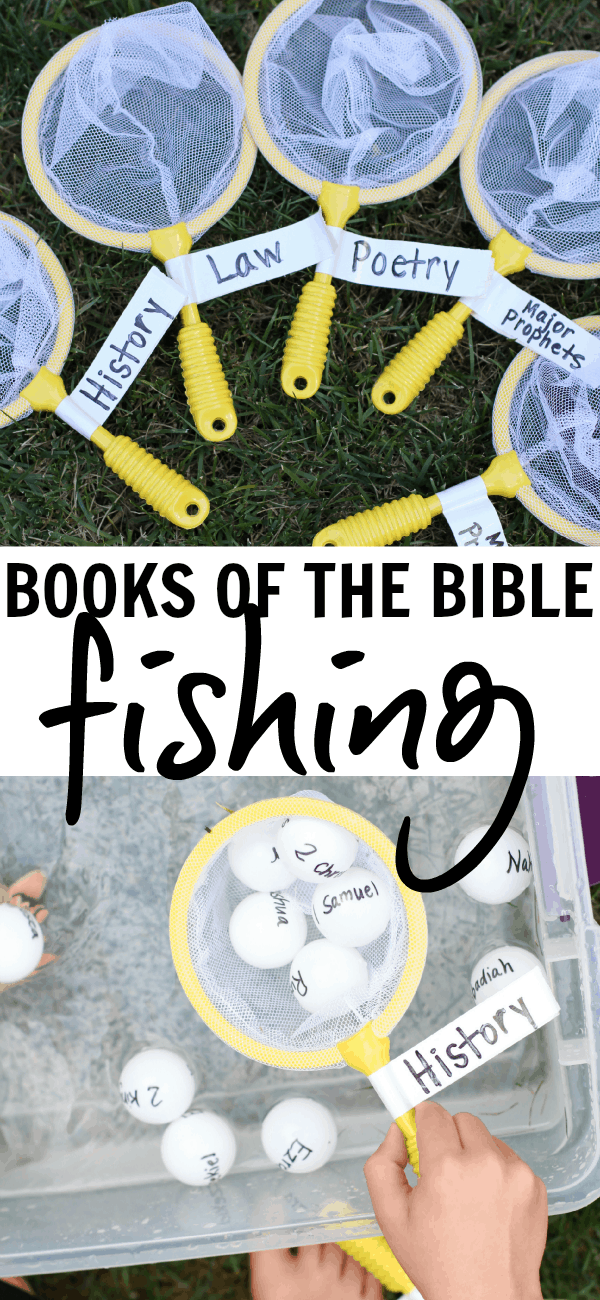 Books of The Bible Activities
First published August 2015. Updated 2017.
A few years ago, our church adopted a new rotation model curriculum. One of the goals of our new curriculum is for the students to know the Word of God as intimately as possible. We hope to achieve this though memory work and knowing the books of the Bible inside and out.
We recently finished up the Old Testament and I thought this was the perfect time to review all the books of the Old Testament. I remembered how much my boys loved our Word Family Fishing activity and thought this Books of the Bible Fishing activity would be the perfect hands-on way to help children learn the books of the Bible and the categories of the books.
In addition to this activity, we have also done a Books of the Bible puzzle and Ordering the Books of the Bible with Ping Pong Balls activity.
Books of the Bible Fishing Activity Supplies:
Duct Tape
Permanent Marker
A large plastic tub
Water
Books of the Bible poster (for reference to categories)
Books of the Bible Activity Instructions:
STEP 1. Write the names of the books of the Bible on the ping pong balls.
STEP 2. Use duct tape to add tags to each net for the categories of the Old Testament books:  History, Law, Poetry, Major Prophets and Minor Prophets.
STEP 3. Fill your plastic tub with water and add your ping pong balls.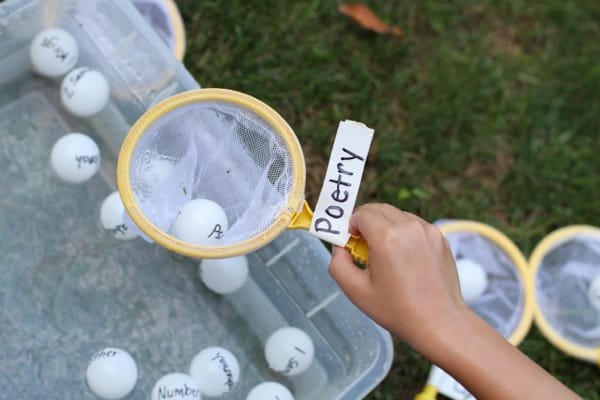 STEP 4. Give your child one of the nets and have him/her try to fish for all the books of the Bible in that category.
The Results:
Big Brother was excited about this books of the bible activity – we worked together and I even learned a lot!
All the ping pong balls in the nets! Obviously, you could also add in the New Testament books as well…you'll just need 4 more nets (Gospels, Church History, Letters, and Prophecy).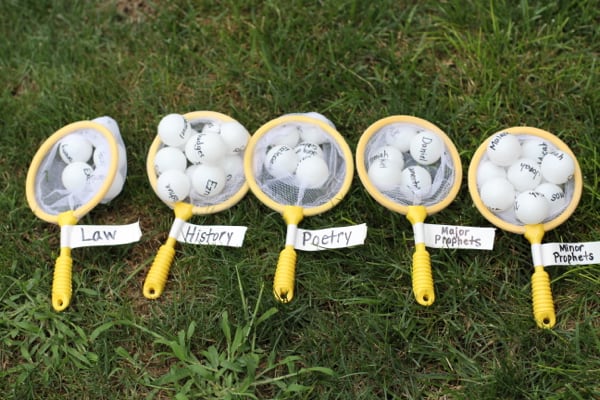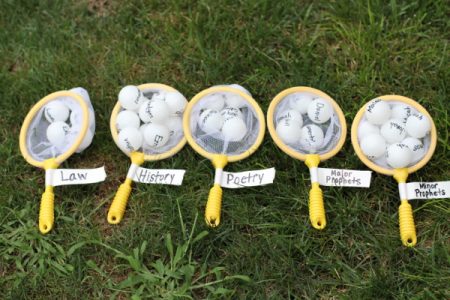 One proud boy!
…and then he decided to be ornery and throw the them at his mom. Typical boy, even if he is in the midst of learning the books of the Bible. :)
Click here for more Books of the Bible Activities:
Ordering the Books of the Bible with Ping Pong Balls
Jesus Heals The Blind Man Craft