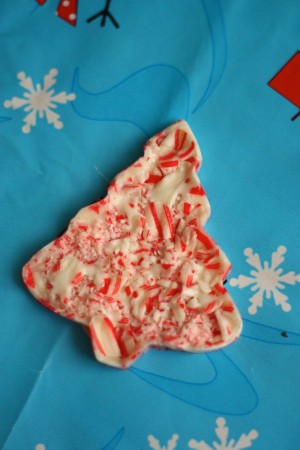 We have a box with a bazillion miniature candy canes that my cousin gave us, which also happen to be a few years old. I'm sure they are perfectly fine to eat (and we have had a few), but I was trying to think of ways we could use them up that didn't involve digesting them.
I'm just gonna warn you upfront on this one…it was completely trial-and-error. Because of this, only one out of four of our candy cane creations turned out. Perhaps you'll have better luck…or perhaps you won't. It's all about the process, right?!?!
First, I put a bunch of candy canes in a gallon-size bag and let the boys have at it…using a wooden spoon for a mallet.
Next, we used some metal cookie cutters and laid them on a piece of parchment paper. We scooped our candy cane smithereens inside.
We put them in the oven (at 350 degrees) for 3-4 minutes. You'll want to keep an eye on them and take them out before they start bubbling!
Let it cool and then use a knife to carefully remove the candy cane from the edges of the cookie cutter. This was our winner.
And these were the losers… :(
There you have it…your very own candy cane creation. Give it as a treat or use it as an ornament!