Little Brother is obsessed with cars, hot wheels to be exact. And when I mean obsessed, I mean the throw-myself-on-the-floor-when-my-mom-has-to-pry-one-out-of-my-fingers-to-put-on-my-coat kind of obsessed. He loves them so much, we'll frequently find him like this, asleep and clutching one of his beloved hot wheels in one hand and his taggie blanket in the other.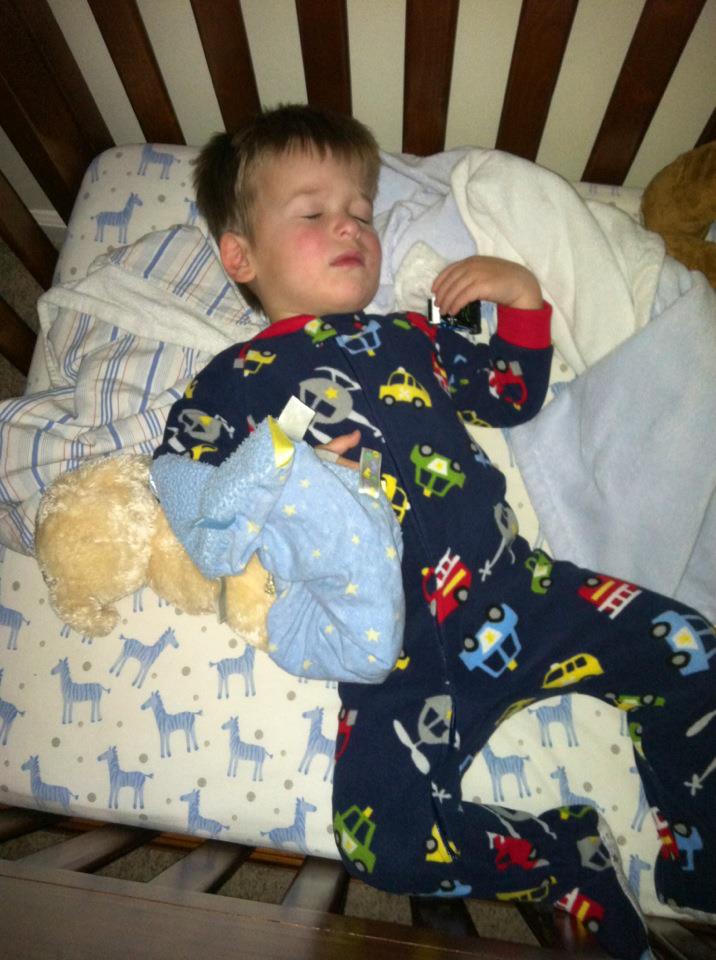 So when I saw this idea on Pinterest a few months ago, I knew I needed to make something similar for Little Brother's birthday! Not only will it soon adorn the walls of Little Brother's bedroom, but it is also going to be a decoration for the party!
So here's what you'll need:  a black shadowbox (mine was 12″x12″…make sure it has a black background), a white piece of scrapbook paper, a hot glue gun, scissors, a pencil, labels, and some little cars.
1. Use a ruler and trace the initial of your child's first name backwards on the back of the paper. I chose to do it backwards because I didn't want any pencil lines showing.
2. Carefully cut out the inside of the letter.
3. Tape or glue it directly to the back of your shadowbox. You won't want to put another paper behind it because the weight of the cars will tear the paper off (trust me).
4. I was lazy with the yellow lines. I just typed up several small yellow rectangles and printed them on some return address mailing labels I had lying around. You could also paint the lines on there, but I am TERRIBLE at painting anything, so this worked for me.
5. Put the yellow dotted lines directly on the back of the shadowbox.
6. Start hot-gluing the cars directly onto the back of your shadowbox! I glued 2 on the road and I have one resting on the bottom of the shadowbox. I haven't decided whether I'll add more or not…I like the simplicity of it now and don't want it to be too cluttered.
That's it! Easy, affordable, and fun!