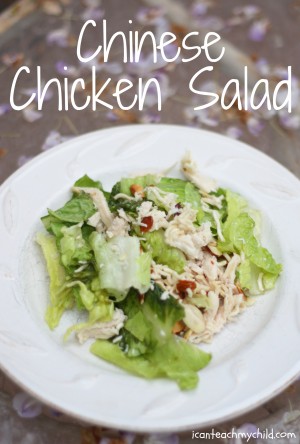 This is one of my absolute favorite meals, especially during the spring and summer! My mom has made this for as long as I can remember and it is definitely a family favorite! The best part is…it is SUPER easy to throw together!
Here is the recipe:
-Head of lettuce (chopped, or cheat like I did and just grab a bag)
-2-3 packages of Ramen Noodles (you won't actually use the flavoring packet, so any flavor is fine)
-4 Tablespoons almonds
-1 teaspoon sesame seeds
-2 chicken breasts, cooked and shredded
-1/4 cup chopped green onions (optional…we didn't add these this time)
Dressing:
1 teaspoon salt
6 Tablespoons Red Wine Vinegar
4 Tablespoons Sugar
1/2 cup oil
1. Put the almonds and sesame seeds in a pan. I typically turn the oven on Broil and put them in for a minute at a time (I am notorious for burning the almonds…just ask my husband).
Ahhhh…just how we like 'em!
2. Next, whip up the dressing. You'll need 1/2 cup oil (we used canola), 4 tablespoons sugar, 1 teaspoons salt, and 6 Tablespoons red wine vinegar.Whisk until well-mixed and then refrigerate until ready to serve.
3. Break up the ramen noodles (and then remove the seasoning packet after opening).
4. Combine all of the ingredients and toss with the dressing, adding a little at a time until you have the desired amount.
Yum! It's a meal in itself!