Christ Centered Easter Baskets For Kids
First published 2016. Updated 2019.

Christian Easter Gifts For Kids
As Christians, Easter is a time when we celebrate the resurrection of Jesus Christ and I always want this to be our focus (which we do throughout the week using this Holy Week Banner with corresponding scriptures and by making Resurrection Rolls on Easter morning before we leave for church).
Giving our kids Easter baskets is a fun tradition for our family as well, although the baskets come from us (we don't do the Easter Bunny). My mom still gives me some sort of Easter gift and it is something I look forward to. To keep the focus on the Resurrection, though, we try to give our children Christ Centered Easter Baskets. There are so many wonderful resources that make learning and growing in a relationship with Jesus fun and engaging!
Check out our favorite Christian Easter Basket Ideas:
A new Bible is the perfect Christ centered Easter gift! You can find our favorite Bibles for Babies, Toddlers, and Preschoolers here. Once your child can read, we really like the Adventure Bible as a transition between storybook Bibles and a "grown-up" translation.
2. Christian Story Book or Devotional
There are so many wonderful Christ centered books and devotionals available now! Here are just a few of our favorites grouped by age.
Some of our favorite Christian children's books and devotionals:
Toddlers:  God Gave Us Easter, My Day with Jesus, Jesus Love the Little Children, God's Love in my Heart
Preschoolers:  Ronnie Wilson's Gift, The Big Red Tractor, Will God's Mighty Warrior, Brave Young Knight
School-Age Kids:  Halfway Herbert, The Priest with Dirty Clothes, Time Crashers series, The Imagination Station series, Prayers that Changed History
Devotional Books:  Goodnight Warrior, Long Story Short, Whit's End Meal Time Devotions, Jesus Calling for Kids,
I made these ABC Scripture Cards several years ago and they still hang in our kitchen to this day. The idea is that as a family you memorize one scripture each week for every letter of the alphabet. Big Brother started memorizing simple scriptures (like A:  "As for me and my house, we will serve the Lord") at the age of 2 1/2. It doesn't take long…just a few minutes at the dinner table every night practicing as a family. Print them out here.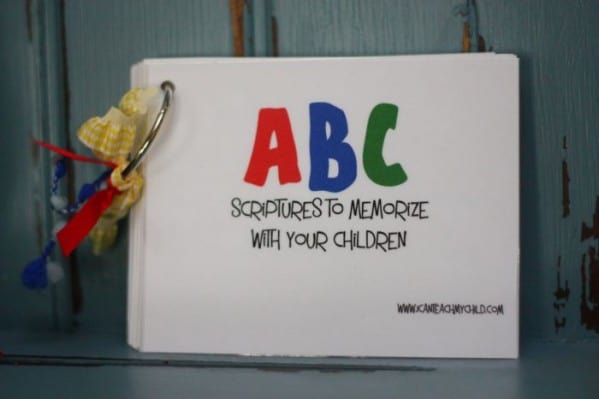 4. Resurrection Eggs
My kids love these Resurrection Eggs. Ideally, they would be given a week or two before Easter to go through each of the scripture readings and activities, but could still be given and enjoyed Easter morning and then tucked away for next year. You can also make your own Resurrection Eggs!
5. Christian Music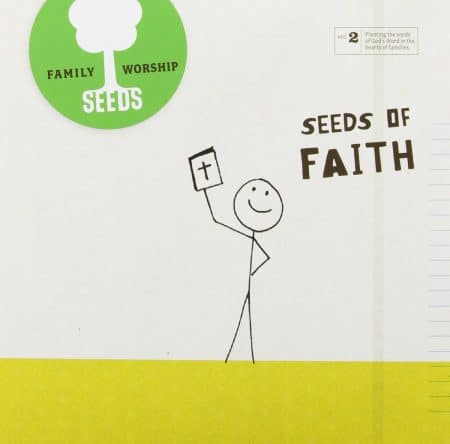 We absolutely love Seeds Family Worship CDs and they make a great Christian Easter gift! Each song is comprised of an actual scripture set to music, so your child family is learning scriptures while singing the songs. This has not only been great for our kids, but it has also been great for us to learn these scriptures along with them.
6. Christian Audio Dramas (ages 6+)
My oldest son is a HUGE fan of audio dramas. These are stories brought to life in audio form…with sound effects and various character's voices. Because of the nature of audio dramas, they can be intense for young children so I would highly recommend these for school-aged children.
The entire CD binder in the photo above is filled almost exclusively with Adventures in Odyssey CDs. We just recently decided to try out the Adventures in Odyssey Club that gives you unlimited streaming access to every AIO episode every created for $10 a month. Big Brother is LOVING it.
Here are just a few of our favorite Easter gifts:
Adventures in Odyssey Audio Dramas
The Life of Jesus, a Focus on the Family Radio Theatre presentation (appropriate for school-aged kids)
Jonathan Park Audio Dramas (science and creation-oriented)
The Brinkman Adventures (about a missionary family)
*Please Note:  Some of the content in the audio dramas can be too intense for younger kids. I would suggest listening to some with your child to see if they are old enough to listen independently.
7. Christian DVDs
I feel so fortunate to live in a time where there are so many edifying forms of entertainment for my children!
Here are some of our favorites for the various ages of our kids:
Toddlers:  BOZ the Bear series
Preschoolers:  Veggie Tales (I prefer the original episodes of Veggie Tales that focus primarily on Bible Stories. The new ones, including the Netflix original series, are still great but they don't have near as much of an emphasis on Biblical teaching.
 Dave and the Giant Pickle, Jonah, and Josh and the Big Wall are our favorites).
School-Aged Children:  What's in the Bible? and Adventures in Odyssey videos
8. Fun Easter Gifts With Inspirational Tags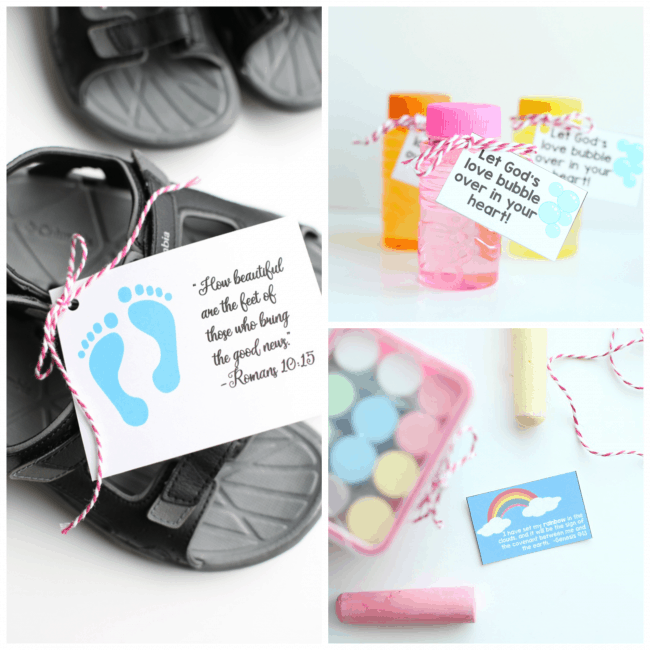 I wanted to put a few practical things in our kids' Easter baskets. They all need new shoes for the spring, so I decided to put a new pair of shoes in each of their baskets. We also are giving each of them chalk and bubbles…with some sweet God-centered gift tags!
1. Romans 10:15 Printable Tags for New Shoes:
"How beautiful are the feet of those who bring the Good News."
"Let God's love bubble over in your heart!
3. Rainbow as God's Promise Printable (for chalk or crayons)
"I have set my rainbow in the clouds, and it will be the sign of the covenant between me and the earth."
Here Are Our Kids' Christ Centered Easter baskets this year: