Christmas Trees for Toddlers
Toddlers and Christmas trees are often a precarious combination.  These Christmas Trees for Toddlers are the perfect hands-on alternative to pulling all the ornaments off the big tree!  
When it comes to Christmas Trees, toddlers are almost as bad at pawing and pulling off ornaments as cats (or so I hear).  :)  Over the years, we have tried lots of incentives and distractions to keep the under-2 crowd in our home away from the breakable ornaments.  And just to clarify…we don't do any fancy tree-decorating in our home.  All of the ornaments on our tree have sentimental value (and believe me, there are plenty made solely from construction paper).  But because they are sentimental, I want to preserve them as long as possible and keep little hands from tearing or breaking them.
The secret to keeping your toddler away the big Christmas tree lies in a typical toddler's favorite word:  "MINE!"  Give your child an interactive Christmas tree of their own and they might very well leave the big tree alone!
Tried-and-True Christmas Trees for Toddlers
My absolute favorite of all!  Yes, it take a bit of prep work but it is so worth it!  And your child is learning important skills like color recognition, sorting, and motor skills! Go here for the directions.
Our Felt Christmas tree is like a giant felt board and is an excellent way for toddlers to decorate and redecorate their very own tree.  Back in 2011, this was a complete DIY project, but now you can find all sorts of amazing options if you don't want to make it yourself.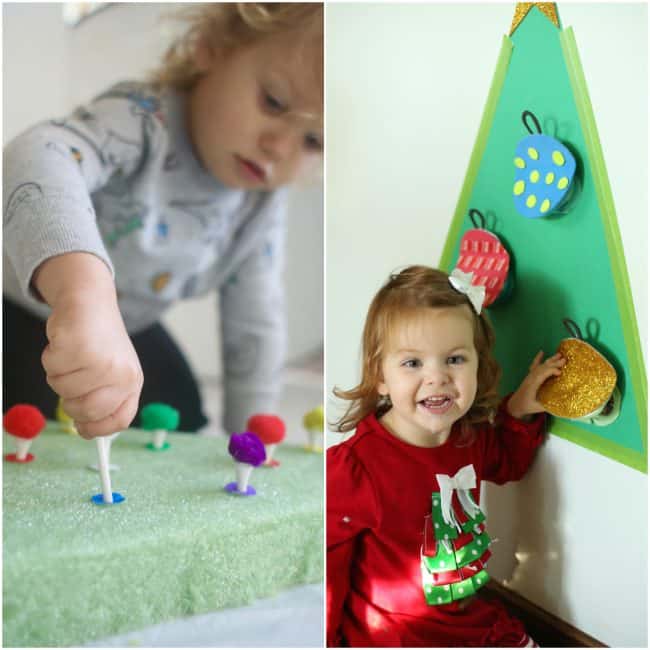 3.  Fine Motor Color Matching Christmas Tree
This simple fine motor color-matching Christmas tree is a fun and festive way for your little one to practice sorting by color while practicing those fine motor skills! With only a few minutes of preparation, you'll have a Christmas tree your toddler can play with over and over again.  Find instructions here.
Using empty baby wipes containers and printed pictures to create peek-a-boo windows as ornaments for your child!  This is a great way to re-familiarize your toddler with relatives they may not have seen for a while prior to the holidays!  Go here for the instructions.
5.  Photo Christmas Tree for Babies and Toddlers
This activity from Toddler Approved is similar to our Peek-a-Boo Christmas Tree only it doesn't involve opening and closing the windows.
6.  Christmas Tree Sticker Wall
What toddler doesn't love stickers?  This Christmas Tree Sticker Wall from Toddler Approved is a perfectly simple way to let your toddler decorate their own Christmas tree!
…and if you just aren't in the "creating" mood, here are a few "ready-made" options!
8.  Step2 My First Christmas Tree