Coming in November: 30 Days of Intentional Acts of Kindness with your Kids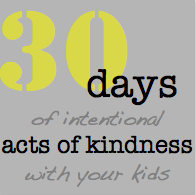 I've never really liked the term random acts of kindness. I want whatever kindness I show to be out of the overflow of the Holy Spirit living within me. And I want these acts to be a daily habit in my life.
I've heard that it takes 21 days to make something a habit. Unless, of course, you're like me and have issues following through with things…then I would say 30 days is more realistic.
I love the idea of doing something intentional for someone else every single day with my children in tow. This is how I want to be remembered when I am dead and gone…and this is the example that I want to set for my children. I have so many amazing people around me who are genuinely thoughtful of others…who think of others before themselves. Unfortunately, this doesn't characterize me at the present time. But I'm hoping to change that. And I'm inviting you to join me on my journey as well.
So, here's the first thing I'm doing on this journey…I'm going to be fervently praying for more of God's spirit in my life and in my heart, especially over these next 14 days leading up to November 1st. If  kindness is one of the fruits of the spirit, then I'm going to need an abundance of God's spirit in my life!
And secondly, I'm going to actively seek out opportunities to show this God-breathed kindness to others. Not randomly. Purposely. Intentionally.
It doesn't have to be extravagant or complicated, just a small gesture that (a) lets someone know that they are appreciated and (b) inconspicuously reveals the true reason for such kindness.
So…will you join me???? Please??? Pretty please???
On November 1st, I'll be hosting a kickoff link-up! I think we could all use some inspiration and ideas for showing kindness to others…so share your intentional kindness for the day with the rest of us and be prepared to be inspired by others!
Then, once a week throughout the month of November, I'll host another link-up. You can recap your week of intentional acts of kindness and then share them. If you'd like to join, feel free to take grab this button!
If you don't have a blog, you can always share your intentional acts of kindness on my Facebook page. Feel free to post pictures on the wall too!
Now…Who's with me???
[field name=embed]