Conscious Discipline: Feeling Buddies Review
This is a sponsored post written by me on behalf of Conscious Discipline®. All opinions are entirely my own.
Parenting is honestly the most difficult, most exhausting, most thought-consuming thing I have ever done. Even teaching classes of twenty-five 6-year olds didn't quite prepare me for parenthood. But just like you, I wouldn't trade it for the world. My kids are my joy and my delight and I consider it to be one of the greatest privileges of my life to get to be their mother.
This doesn't mean, however, that I take pride in every single moment. There are many, many moments of frustration, many with my kids when they are misbehaving, throwing tantrums, or melting down. Much of my frustration, however, is with myself because I am not always the mother I yearn to be. Just yesterday (in the midst of a horrible headache), I totally snapped and screamed at everyone in the car to be quiet!
I read books, posts, and articles about parenting all the time. I try new strategies that seem to work for a while but eventually taper off because of their ineffectiveness and my lack of consistency. Honestly, many such "strategies" are no good to me when I am in the heat of the moment and can't think straight enough to offer two viable options or think of a reasonable consequence to the misbehavior, disobedience, or attitude.
In what seems like providential timing (while stuck in a parenting rut, willing myself to just get my act together and not be so impatient with my kids), I was asked to review The Feeling Buddies© for Families Toolkit from Conscious Discipline®. I was immediately intrigued and thought two of my children could especially benefit from this program. Little did I know that the person it would have the greatest effect on was me!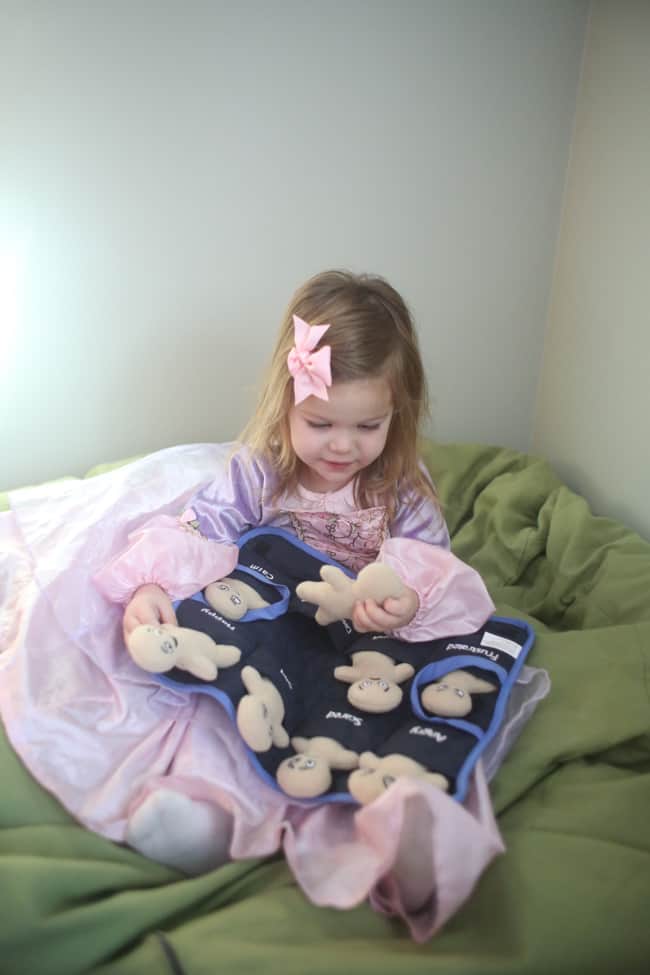 Dr. Becky Bailey, the founder of Conscious Discipline and creator of The Feeling Buddies for Families Toolkit, says one of the most thought-provoking statements in her book Managing Emotional Mayhem (2011) regarding regulating emotions:
"What we offer to others we strengthen in ourselves."
The majority of The Feeling Buddies program is directed at helping parents manage their own emotions so that they can demonstrate self-regulation for their children. The children, in turn, help their Feeling Buddies regulate their emotions. The parent teaches the child, strengthening his/her own ability to self-regulate in the process, and then the child teaches the buddy.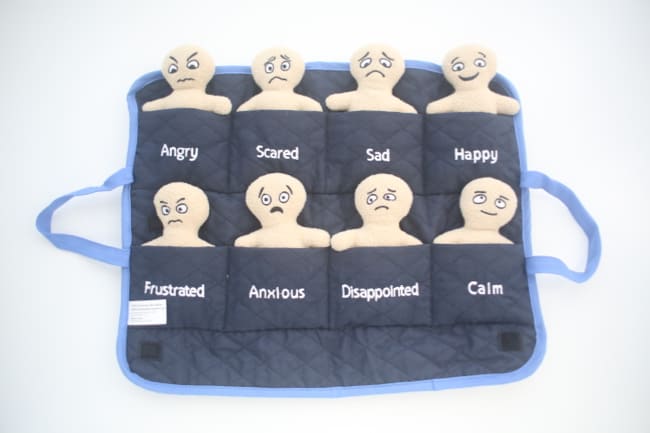 Modeling is a brilliant approach, especially when it comes to  self-regulation. After all, when stable adults still struggle with managing their emotions, it is obviously going to be something that kids struggle with and need to learn to manage as a lifelong skill.
Surprisingly, the number one predictor of success in children is the ability to self-regulate, so it is something we need to model and help our children strive towards. Children who are able to self-regulate have:
Higher Academic Achievement
Better Social Skills
Higher Self-Esteem
Ability to Engage in Meaningul, Lasting Relationships
Greater Satisfaction in Life
There are countless resources that help children identify their feelings, Feeling Buddies uses a unique methodology to help fast-track a children's learning of self-regulation.
After following the program by watching the videos and reading the book Managing Emotional Mayhem, I was ready to get started helping my kiddos manage their emotional outbursts. The first thing we did was set up a "safe place" in our dining room as a place where the kids can go when they are having a meltdown or need to remove themselves from a situation.
Our "safe place" has a beanbag chair and our Feeling Buddies as well as a
pinwheel to help my daughter (and son) to remember to breathe (exhaling makes the pinwheel spin).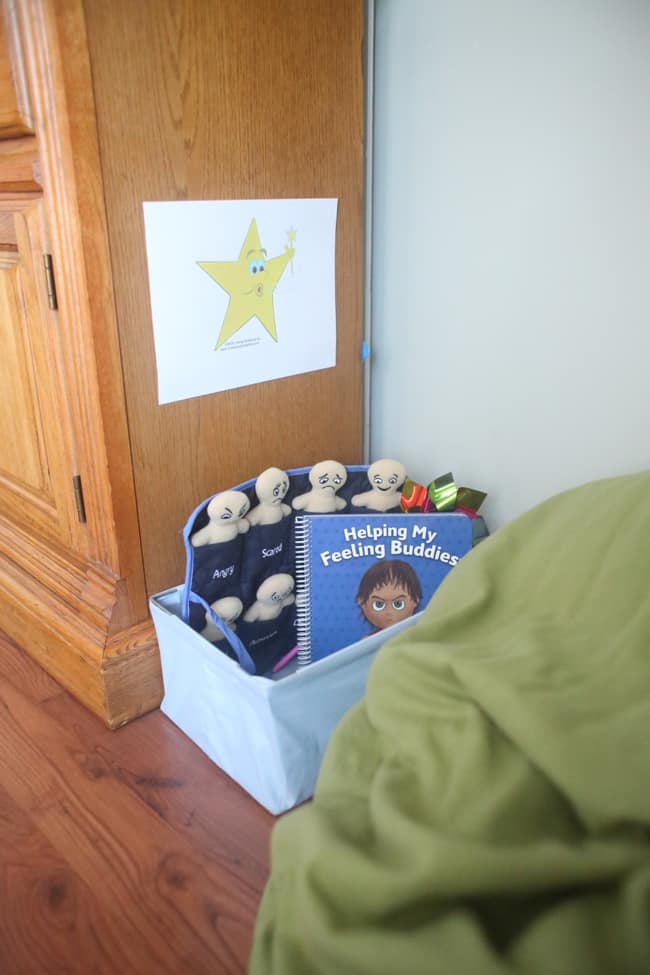 Just today we were able to avoid a complete and total meltdown by implementing the strategies in the Feeling Buddies program. I told my daughter that she could not watch TV until she ate her yogurt (which she had asked for minutes before). If she chose not to eat her yogurt, we would have to go straight to nap time. She began her usual meltdown process immediately. I calmly identified and affirmed her feelings "You are sad that you won't get to watch your movie right now. I'm sorry. You can handle this. Breathe with me." Immediately she started breathing and asked to go to her safe place. She held her Feeling Buddy named Sad and we read the Sad section in the Feeling Buddies book. I took her up to her bedroom and she went down for a nap without any screaming, flailing, or kicking.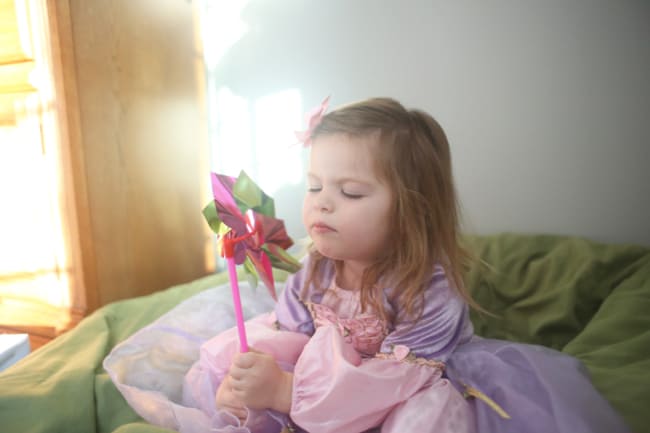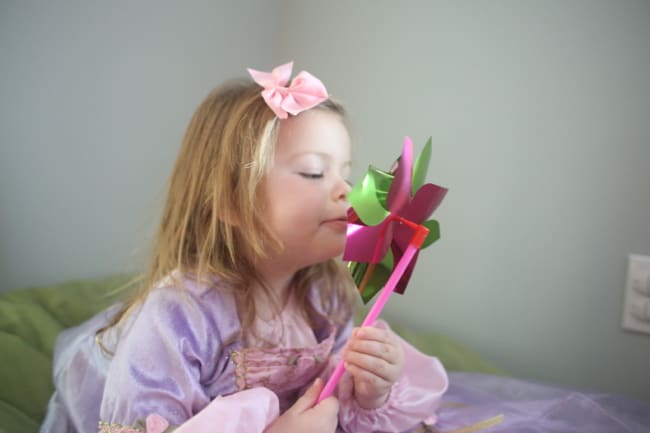 The Feeling Buddies and strategies in Managing Emotional Mayhem have also helped one of my sons who struggles with a temper. Just recently he lashed out at his brother who was blocking his way my yelling and kicking him. I quickly asked him to go directly to the safe place where I again identified his feelings. "You are angry at your brother for blocking you. Let's try to breathe and calm down for a bit." He wasn't quite as interested in holding a Feeling Buddy as my toddler is, but he held the Angry Buddy and we breathed in and out. After a bit, we talked about some strategies we could try instead of
One more aspect of the Conscious Discipline approach that is immensely helpful is given away in the title–conscientiousness! I have to be present and engaged with my kids to help them regulate my own emotions. I have to be conscious of my own triggers and set an example for my kids. I can't always be distracted working on something else and expect my kids to "figure it out on there own". I must be present. I must be attentive. And I must be intentional in coaching my children through their emotional outbursts.
I still have a lot of work to do on managing my own emotional mayhem, especially when it is that "special time" (cough, cough) that us moms "enjoy" twelve times a year and my hormones are out of control. But I feel like I am more conscious of my emotions and the behaviors that trigger the onset of strong emotions. I am also much more equipped and able to stop and help my kids through the process of managing their emotions in heated situations or disappointing circumstances.
I am so very thankful for the wisdom and insight provided by Conscious Discipline and The Feeling Buddies for Families Toolkit. It has made our home a much more peaceful place to be and has helped me tremendously with self-regulating my own emotions and modeling this for my children as well!