This post is sponsored by Walmart. All opinions are 100% mine.
My boys head back to school next week and one of the activities we've wanted to do all summer is make slime! We decided to try something new- Crayon Slime made using some of the most popular back to school essentials! Crayons and glue are the staples to every new school year…and now they the stars of this fun slime that even smells like new crayons! :)
Crayons are, by far, my favorite back to school supply. I love opening a box of crayons, inhaling the waxy smell, and seeing the perfectly pointed tips of 24 brilliant colors. And there is nothing like the feeling of using a brand new crayon for the first time!
We bought all of our school supplies (and supplies for our slime) using Walmart Grocery Pickup. I first began using Walmart Grocery Pickup about a year ago and it has seriously revolutionized my life. Words can't express my love for Walmart and for the fact that I don't have to take my kids inside the grocery store every week! I just use the app to add items I need throughout the week and then I normally schedule my pickup on Monday mornings. I check in on the app when I am getting ready to leave the house, pull up to one of the marked parking spaces, and literally within 2 minutes someone is outside putting my groceries in the trunk! It is like magic and makes back to school shopping nearly effortless.
And not only does Walmart offer Grocery Pickup, they also offer Same Day Pickup on thousands of items and have now integrated TeacherLists to make school shopping even easier.
Here is what you'll need to make Crayon Slime:
2 5-oz. bottles of Elmer's Washable Clear Glue (white school glue works fine as well)
Crayola Crayons
Liquid Starch
Alphabet Beads
Xacto Knife (keep out of the reach of children)
Plastic bag and mallet OR Food Processor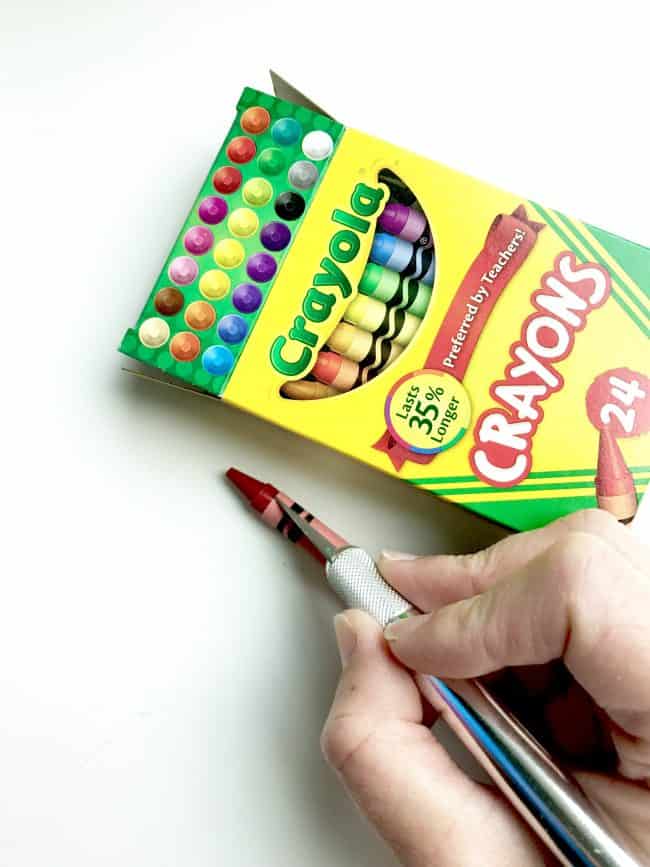 1. ADULT ONLY STEP:  Remove the paper wrapping of each crayon. I found that for Crayola, it takes FOREVER to peel the wrapper with your fingers. So the fastest way is to slice through the wrapper with an Xacto knife and then remove. Obviously, keep the knife out of the reach of your children and put it back promptly in a safe place after you are finished.
We used 7 crayons to make our slime.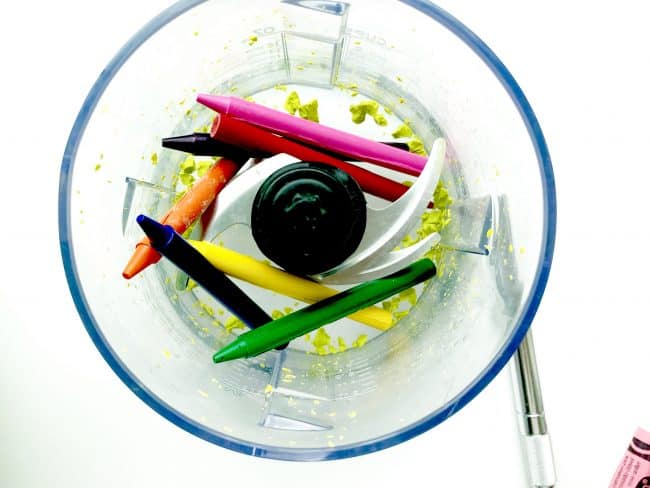 2. Break apart the crayons. You can do this one of two ways:  either with a plastic bag and mallet or with a food processor. I opted for the food processor, but only because I have an old one that I use for non-food items. Do not put crayons in a food processor or blender that you use for food as it will leave behind a residue from the crayons. The easiest way in this case is to just put the crayons in a plastic bag and break them apart with a meat tenderizer or mallet.
The broken crayons look like Fruity Pebbles! :)
3. Now it is time to make your slime! Pour both bottles of the Clear School Glue into a bowl.
4. Slowly, add about a tablespoon of liquid starch at a time and stir. Keep adding and stirring until all of the slime has congregated to the middle of the bowl. Then test the consistency with your fingers…if it is still sticky, add more liquid starch. I lost track of how much liquid starch I ended up using, but it was probably at least 1/2 cup. But again, don't add it all at once…slowly add one tablespoon at a time. I also like to keep some extra liquid starch on hand after it has been stored for a while, it tends to get tacky after sitting and the liquid starch keeps it from sticking to your hands.
Need some slime troubleshooting? Check out "How to Fix Slime Fails" from Fun at Home with Kids!} 
5. Dump the crayon pieces and alphabet beads into the slime and knead.
Start playing!
You can add an element of learning to this slime by encouraging your child to pick out the alphabet  beads (great for fine motor practice) and put match them to an alphabet chart printable here.
Download the Alphabet Charts (capital, lowercase, and both here).
And slime isn't just for kids…a friend of mine stopped by the house and we spent over 30 minutes talking and playing with slime! Haha!
What is your favorite NEW school supply?!?!
SaveSaveSaveSave
This is a sponsored conversation written by me on behalf of Walmart. The opinions and text are all mine.