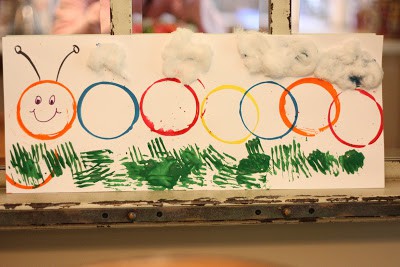 First of all, this wasn't my idea. The amazing Deborah from Teach Preschool came up with this awesome activity. And we just had to do it since we have some caterpillars of our very own
!
Here's what you'll need: 2 sheets of cardstock or white construction paper, paint of various colors, foam/plastic cups, and a fork.
1. Glue the 2 pieces of cardstock (or construction paper) together.
2. Squirt various colors of paint into bowls.
3. Wiggle the cups around in the paint so that the rim of the cup is completely covered with paint.
4. Start making a caterpillar!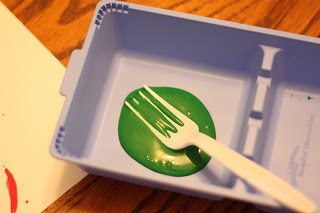 5. After your caterpillar has been made, use a plastic fork dipped in green paint to make grass.
We're getting ready to paint our kitchen yellow…so we have LOTS of different yellows painted on the walls.
And since Little Brother has officially dropped his morning nap (most days), he now gets to participate in the fun. I still don't trust him with paint, so he got to color. Or rather, he enjoyed chewing on the crayons!
6. Add some glue and cotton balls for clouds.
Add a face and the antennae and you have a beautiful caterpillar to proudly display!

Literature Link
The Very Hungry Caterpillar
by Eric Carle
If you don't have this book, you should! It is a wonderful story that is a teaching tool in 3 ways. First of all, it teaches the life cycle of a butterfly. Egg > Caterpillar > Chrysalis > Butterfly. Secondly, it teaches the days of the week. And finally, it teaches healthy foods vs. unhealthy foods. Both of my boys absolutely love our board book version!