Encouraging Girls to Love Big Machines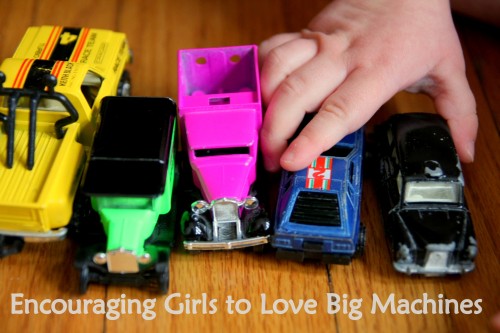 Guest Post by Rachael of Nothing if Not Intentional
We have two daughters. They wear pink, have baby dolls, and enjoy fancy tea parties. My toddler loves to help me (a SAHM) cook, clean, and bake. My baby rarely leaves the house without a hair bow. Obviously, we conform to a lot of the usual gender stereotypes. However, I truly want my daughters to grow up believing they can do anything. I would be thrilled if one or both of them chose a typically male-dominated field like construction, engineering, aviation, or science! Therefore, my husband and I are doing our best to expose our girls to a variety of things that aren't typically considered "girly."
Here's how we do it:
We go out of our way to see machines. It's worth the extra time and gas to take the long way home if it means we pass an active construction site. My two-year-old has come to expect it, and she can spot the digger and excavator three blocks away. If we have time, we pull over to watch. My toddler loves to tell me what she sees, "Look, Mommy! A digger! It get dirt. It dump!" When we're out for a walk, we'll tread down a muddy alley in hopes of seeing the cement truck pouring concrete or workers from the energy company working on power lines from a bucket truck. We don't rely on our girls getting exposed to these types of masculine activities by accident.
However, if we do come across a big machine inadvertently, we take time to talk about it. We've been known to follow a fork lift through a store and watch it lift and load merchandise. If we're railroaded, we listen for the horn. We look for the caboose. We try to guess where the train is going. If we hear something flying in the sky, we stop and look for it. Is it a helicopter? A plane? If it's a plane, is it big or little? (At our house, Daddy is a pilot. You can read our tips for how to expose your little ones to the world of aviation here–http://nateandrachael.com/airplanes-and-aviation-for-kids/.)
If it's mechanical, we involve our girls. Car washes and oil changes are great opportunities to expose girls to the world of cars. Our oldest helps daddy put air in the bike tires and fix things with her tool kit.
We surround our girls with purposeful toys. Toys stores would have you believe that trucks, cars, and building kits are for boys. We all know that's not true. But it requires intentionality to move beyond the Barbie aisle. The creator of "Goldie Blox" (a construction kit for girls) discovered that girls generally have superior verbal skills and a love for reading and characters. Girls are more interested in building activities when they involve stories and words. We've taken that to heart and tried to surround our daughter with construction characters (dolls) and construction books. This is in addition to the legos, blocks, trucks, cars, and digger toys that we already own.
It seems as though boys are exposed to big machines almost on accident. I believe our girls can grow up with the same love and interest in "masculine" careers and hobbies as their male peers. Parents can help encourage this interest by exposing their daughters to big machines and jobs from an early age.
Nothing if Not Intentional

 started as a blog to share stories from Nate and Rachael's ten trips to Guatemala. It has since grown to become an outlet for Rachael's writing (she's a former English major), and a place to share stories from their travels (Nate's a pilot) and life with two young girls (ages seven months and two years).