Fourth of July Crafts and Activities
The fourth of July is just a few weeks away and it is one of my favorite holidays! It doesn't get much better than hot dogs, fireworks, and a whole lotta red, white & blue! And here are a few of our favorite 4th of July crafts and activities suitable for toddlers to preschoolers.
4th of July Crafts and Activities For Kids
One of our favorite science experiments for preschoolers and so simple too! All you need is some oil, water and food coloring to make your own fireworks in a jar.
Here's an activity to go with 4th of July throw on the ground poppers. After all, who says you can't throw some learning in with fireworks?!?!
Big Brother LOVED this fun game! It can easily be adapted for whatever skill you are currently working on with your child…shapes, colors, letters, numbers, or even sight words!
Forget the fireworks…have some 4th of July fun with water beads! Make a red, white & blue sensory tub with water beads that your kids will love.
Looking for an easy 4th of July craft? Look no further! This SUPER SIMPLE project uses an apple core to stamp star shapes and create a windsock.
I'm sure craft sticks and painter's tape isn't exactly what Betsy Ross had in mind when she made the first flag over 230 years ago. But we had fun lots of fun making this Popsicle stick flag…even if all the details (number of stars and stripes) aren't exactly correct.
Make patriotic bubble snakes using a sock and a plastic bottle!
Behold…the world's greatest Patriotic cookies! I halved our World's Best Sugar Cookie recipe to make some festive 4th of July cookies… in the shape of a flag!
Have a 4th of July face-painting party with our easy homemade face paint recipe! Paint a patriotic design on your child's face…using ingredients you already have on hand.
If your kids love their Do-A-Dot Markers as much as mine do, they'll enjoy making a festive American flag with a simple free template you can download.
Make a salt absorbing artwork for the Fourth of July with some black paper and a few common household ingredients.
These Shaving Cream Fireworks prints were just as fun to make as they are to display! From a toddler to preschoolers, all my kids loved this cool 4th of July activity. It's messy fun and doesn't need very many supplies!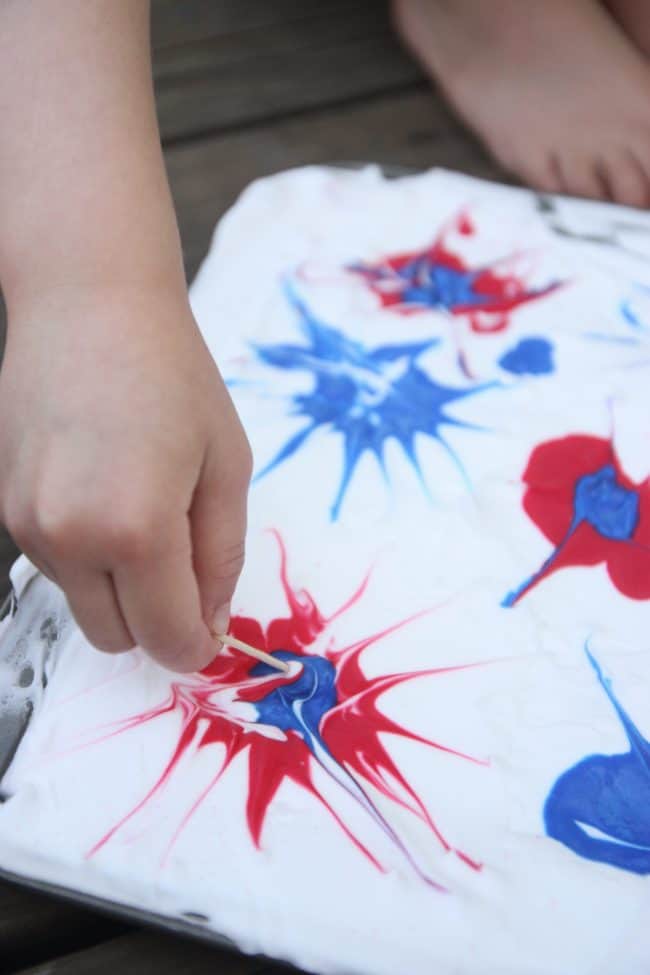 This Fizzy 4th of July Activity is a super fun way to blend science, art, and patriotism! :)  Suitable for the 3 year old and above crowd.
This is our first-ever attempt at SLIME!!! Little Brother has been begging to make some "goop" ever since he first played with it at preschool this past school year. This easy slime recipe with a Fourth of July theme was the perfect way to start!

An American Flag painting suitable for even toddlers! This 4th of July activity is so simple and can be adapted in different ways. Free flag template available to download.

This Fourth of July craft is super simple and only takes about 1-2 minutes to paint the flag on your child's hand. I think the printable makes it even more special and could easily be framed and featured with your other patriotic decorations!
What are some of your favorite 4th of July activities and crafts?