Post by Contributing Writer Amy
The girls had a blast with this Fun Fall Play Parade, which combined fine and gross motor skills as well as sparked their creativity. On top of that, they were engaging in imaginative play while being active outdoors. Although it was a spur of the moment idea, we plan to do it again as a play date with friends. What small child wouldn't love cruising around and throwing things? Hooray for parades!
You will need:
Anything kids can push, pull or ride on!
String or jump rope to hook toys together
Stuffed animals or dolls to ride on the "floats"
Tape
Scissors
Streamers and any left over birthday décor
Cereal, bird seed, dried fruit, or bread crumbs in bags for each child
I helped them tie the wagon to their trike, then laid out their materials and let them do the rest. Cutting streamers and working the tape dispenser was tricky for their little hands, but excellent fine motor practice they were very motivated to do. I let them be the designer of their parade float and make it their own way. The only challenge was to for me to keep baby sister entertained in the driveway because they really took their time in making their parade float look just right. :)
It was finally parade time! It looks like this is the last season for those trikes. They grow so fast!
Instead of throwing candy, they threw cereal and were thrilled to be leaving food for the "all the critters" to store up for winter.
Baby sis decided she would rather be a critter than a parade participant. :)
 Hosting your own play parade could not be easier. Gather up the supplies, call up some friends, and you will be set for a fun fall play date!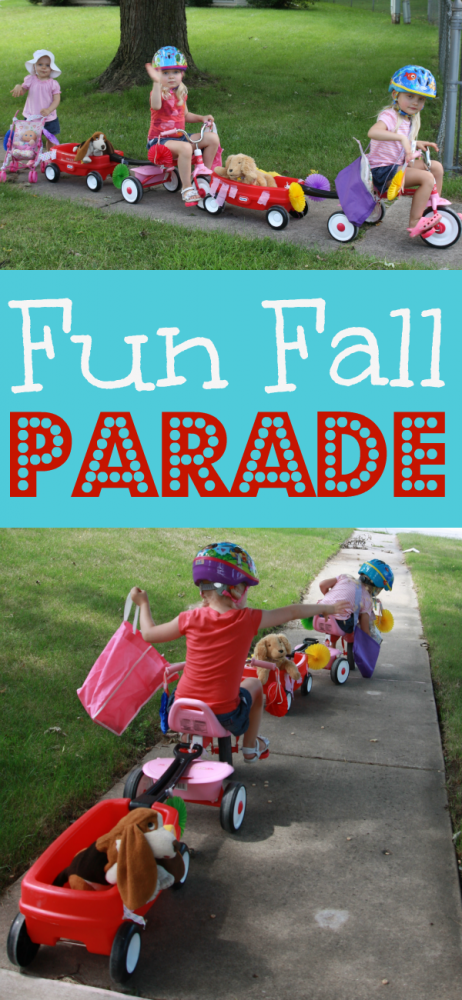 Amy is a former reading and third grade teacher as well as a mother to three little girls with big personalities. She believes joy can always be found in playing, learning, and ice cream.