Goal Setting for Kids (free printable)
This post was first published Jan 2013. Updated 2019.
Family Goals
It's the New Year, which means everyone is making resolutions or goals for the coming year! Why not include our kids as well?
We were talking with our boys the other night about some things we would like for them to work on in the coming year, both character and developmental skills. (obedience, tying shoes, etc). My husband and I decided that we would like  each member of our family to set a few goals for the coming year–including our 3-year old and almost 5-year old! So I decided we needed to create a goal setting worksheet for kids! I plan to laminate ours and hang them on our bulletin board.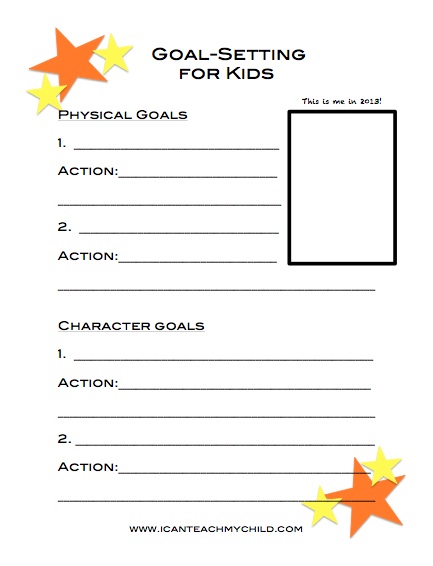 Goal Setting For Kids
I divided the kids' goals into two types:  Physical Goals and Character Goals. There is space for two of each type of goal on this printable.
Underneath each goal, I also have placed an "Action" line, which should briefly detail what steps need to be taken in order for the child to accomplish that specific goal. The character goals are a bit more abstract (at least for our children), so it was a little more difficult to come up with "actions".
There is also a small area to include a photograph or a self-portrait. We chose the latter. :)
Kid Goals
I thought our printer was out of commission, so we started to write them on a separate piece of paper first. The above is Big Brother's goal that he came up with all on his own.
Little Brother got a bit over zealous with his self-portrait! :)
Print out your own Goal Setting Printable for Kids here.