Handprint Reindeer Puppets and Treat Bags
This simple reindeer craft can serve two purposes:  Turn the brown bag upside down and make puppets or fill it with goodies to make a cute bag!
Here's what you'll need:  Brown paper bags, construction paper, glue, googly eyes and pom-poms (both of which we received compliments of CraftProjectIdeas.com), 
 1. Have your child trace his/her hand twice on their selected color of construction paper. If your child isn't old enough to trace his/her own hand, trace it for him/her.
 2. Cut out each handprint.
 (I traced and cut Little Brother's for him…he was too busy playing with his Angry Bird!)
 For the reindeer puppets, turn the brown bag upside down. On the flap, glue the handprints on each edge to be the antlers.
Use glue to add a red pom-pom nose and two googly eyes. Let dry.
For the gift bags, fill your brown bag with goodies.
 Fold and crease the top edge a couple times. Staple the handprint antlers to each edge.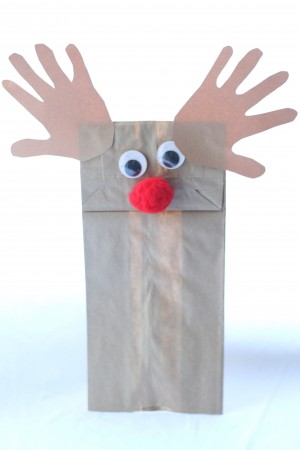 The reindeer was "talking" to Big Brother.
 Of course, the reindeers had to have some type of confrontation. Naturally.