Handprint Tulip Towels for Mother's Day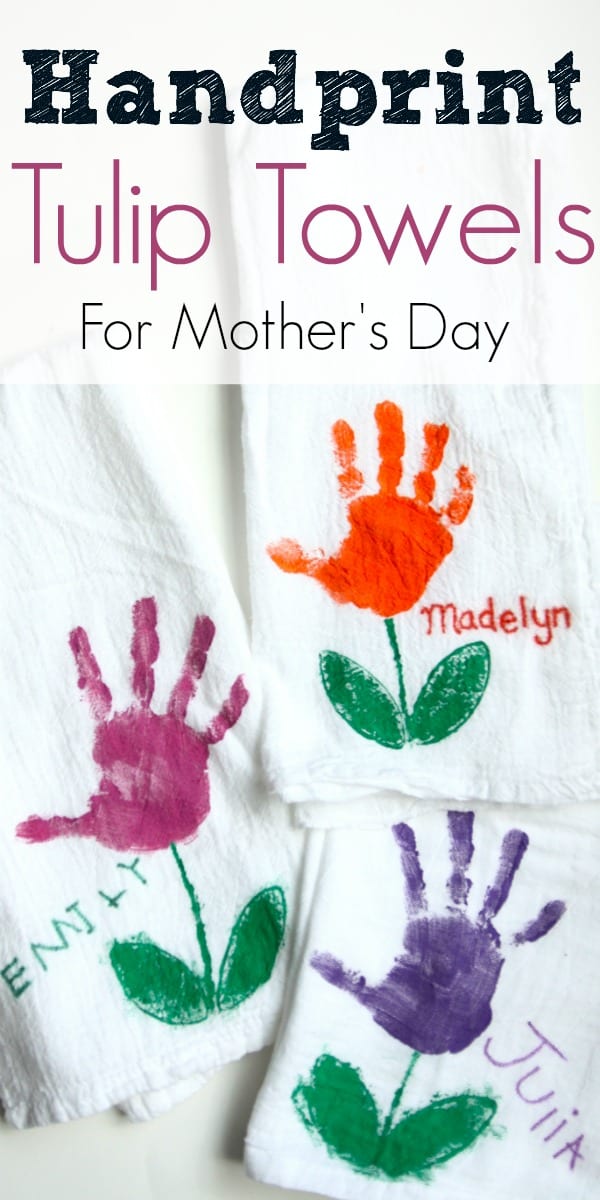 Mother's Day Handprint Art
Post by Contributing Writer Amy
Need an easy and inexpensive, yet still adorable and practical gift to make for Mother's Day? Grandmas and moms will love using this easy Mother's Day gift that the kids made for them. I will, too, which is why I helped my girls make a set of these handprint tulip dish towels for myself, too. Happy mother's day to me. :)
More Handprint Art: Make A Handprint Flag, Handprint Family Tree or Handprint Poem For Dad
Hand Print Tulip Towels
We have found the best paint for handprints on fabric is a fabric paint. Then you can wash your towels as often as you need to without loosing your little one's handprint.
You'll need:
White Dish Towels
Tape
Cardboard
Fabric Paint
Foam Paint Brush
Skinny Paint brush
Toilet Paper Tubes
Permanent Markers
White paper
Baby wipes are handy for wiping off hands, too!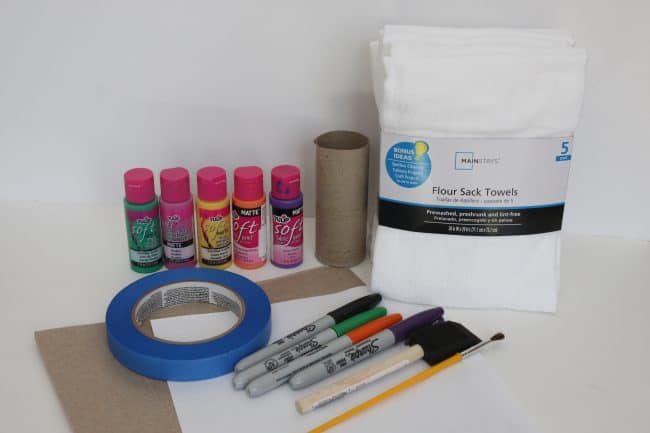 How To Make Handprint Tulips
STEP 1:  First, wrap the dish bowl around cardboard (I used a cereal box) and tape it to your work surface. Each child did three towels, one for each grandma and one for me. I taped them all down at once so a child with a painted hand could do all three handprints and only wash once.
YOU MAY ALSO LIKE: Best Handprint Art Ideas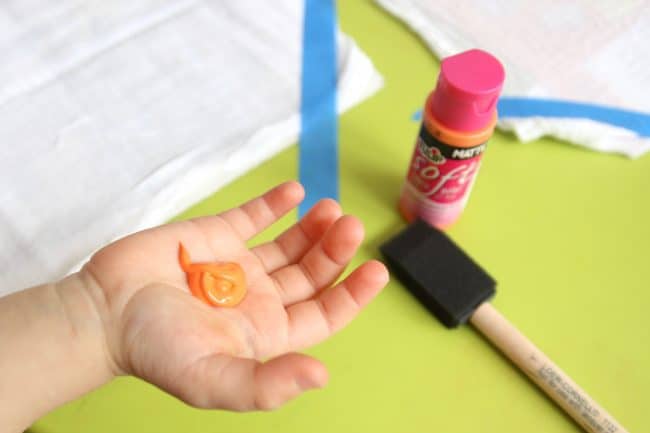 STEP 2:  Next, have your child choose what color flower they want to make. You can squirt the paint right in their palm and use the foam brush to paint their hand. You need to keep the paint pretty thick and stamp it onto the towel 6 to 8 inches from the edge of the towel to leave enough room for the stem and leaves to be added.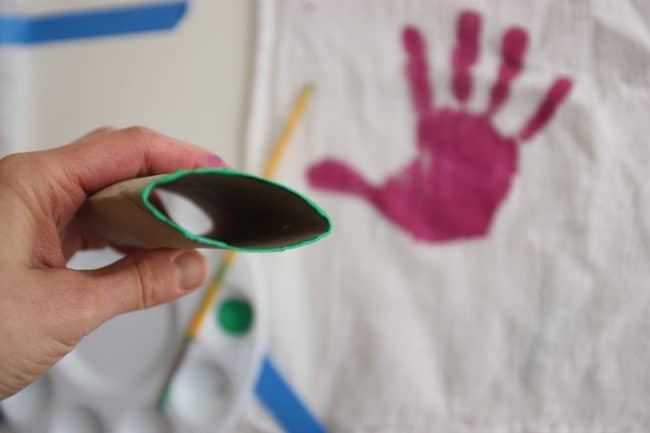 STEP 3:  Flatten out the toilet paper tube, so it makes an oval with pointed ends. You could dip it in green fabric paint, but I just painted the very end with a paint brush to conserve paint.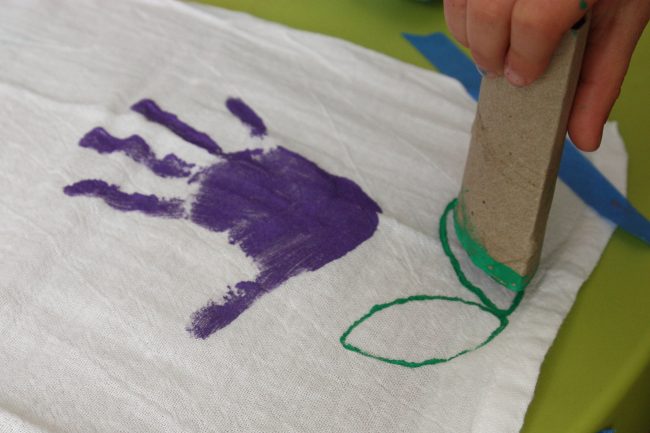 Stamp the leaves close together a few inches below the handprint.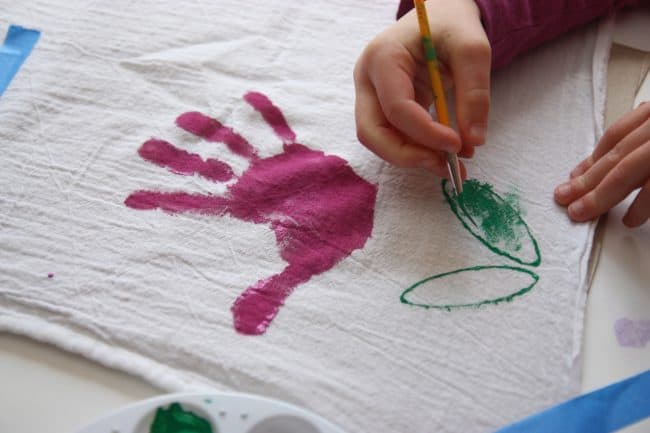 Your child can fill in the leaves with the paint brush.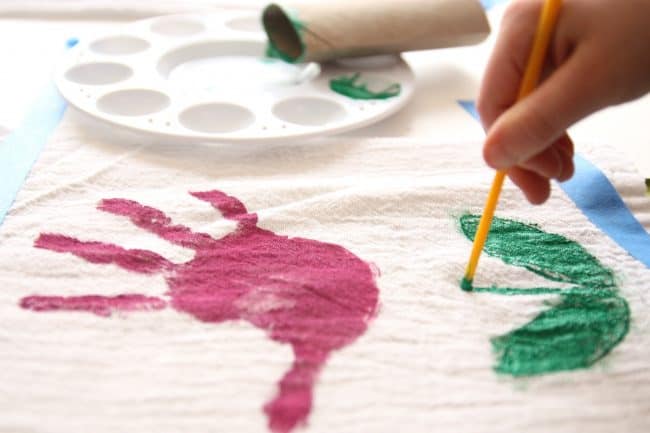 STEP 4:  Add a stem! Using the end of the paintbrush worked the best for me.
STEP 5:  Last, and my favorite part, is to have your child write their name in black marker on paper. If they are able, they could write the year, "I love you!" or "Happy Mother's Day!" as well. Place the paper under the dishtowel and use the permanent marker to trace over their writing. I don't know what it is, but I just can't get enough of the haphazard way little ones write their names. :)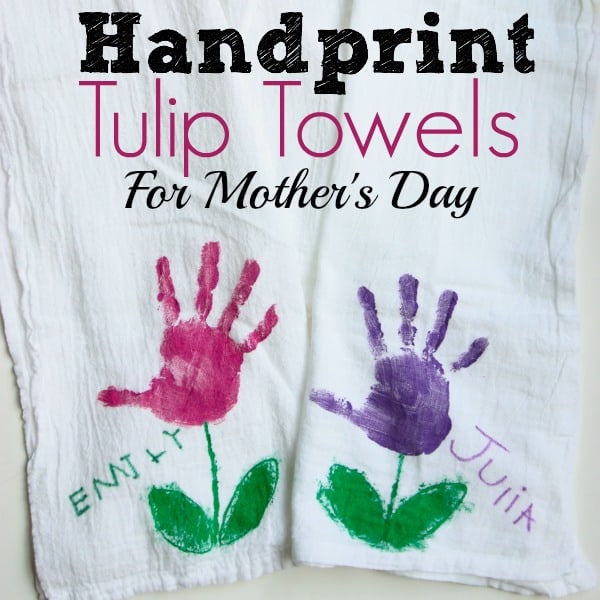 This practical and cute Mother's Day handprint art is sure to make moms and grandma's smile. :) Happy Mother's Day!
Check Out More Easy Homemade Mother's Day Gifts
5 Mother's Day Crafts Preschoolers Can Make
Personalized Mother's Day Tea Towel
This post was first published 2016. 
Amy is a former reading and third grade teacher as well as a mother to three little girls with big personalities. She believes joy can always be found in playing, learning, and ice cream.