Easy Homemade Glue Recipe For Kids
 Easy Recipe for Homemade Glue
This post was first published June 2011. Updated 2018.
Here is another great homemade recipe using ingredients you probably already have on hand, adapted from The Preschooler's Busy Book
.
Ingredients For Homemade Glue:  
Makes 7 5/8 ounces
3/4 cup water
2 Tablespoons corn syrup
1 teaspoon white vinegar
2 tablespoons corn starch
3/4 cups cold water
How To Make Homemade Glue:
STEP 1. Heat 3/4 cup of water, 1 teaspoon of vinegar, and 2 tablespoons of corn syrup…
…until boiling.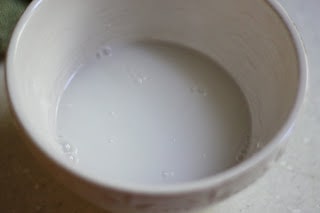 STEP 2. Meanwhile, mix the other 3/4 cup of water and 2 tablespoons of corn starch together in a separate bowl until well-mixed.
STEP 3. Slowly add the corn starch mixture to the corn syrup/vinegar mixture. Stir continuously until boiling. Once it starts boiling, stir for exactly 1 more minute.
STEP 4. Remove from heat and cool.
Immediately after removing from the heat, it will be a pretty thin liquid…
…but after sitting for 10 minutes, it will thicken up.
STEP 5. Use a funnel to pour into an empty container. I used an old glue bottle that I rinsed and reused. Let it sit overnight before using. And there you have your own homemade glue!
This is what it looks like…slightly clearer than normal Elmer's glue. And it seems to really work well!
The bottles of Elmer's glue are normally pretty inexpensive towards the end of summer (in preparation for back-to-school), so it's not a HUGE cost-savings. However, it is kind of fun to experiment making your own products while also knowing exactly what's in them!
Try out your homemade glue with these fun craft ideas:
16 Fun Scarecrow Crafts for Kids
15 Creative Thanksgiving Crafts
Click here for more homemade recipes: