Ice Cream in a Bag Experiment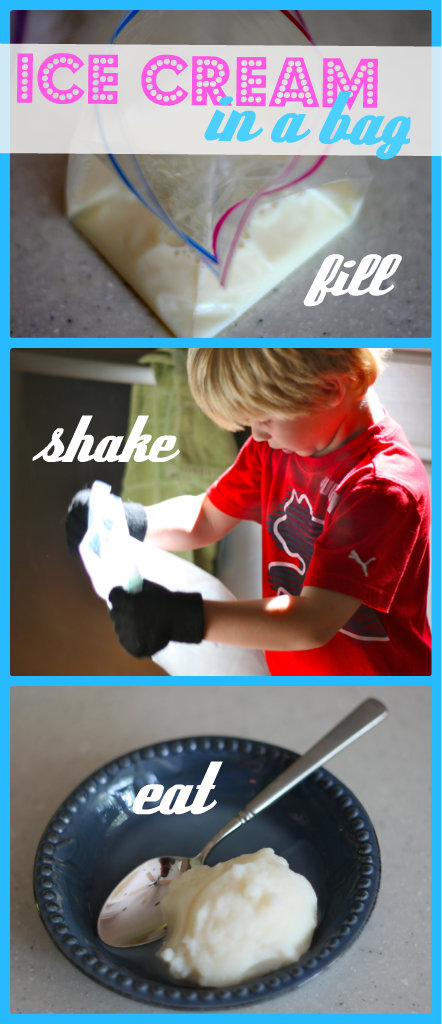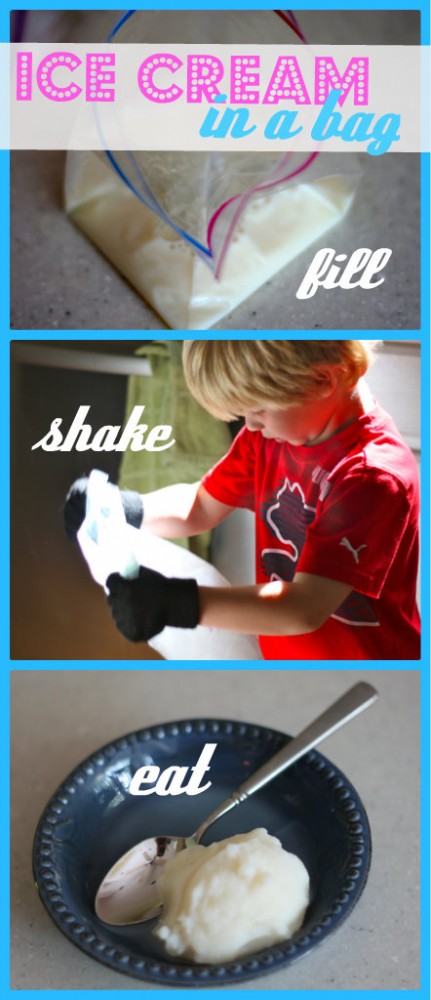 Ice Cream is a quintessential part of summer! But it also makes for a great (and delicious) science experiment… No fancy machine or cranking required!
This 'recipe' was adapted from Steve Spangler Science.
How To Make Ice Cream In A Bag 
Homemade Ice Cream In A Bag Ingredients: 
1/2 cup half-&-half (or milk)
1 tablespoon sugar
1/2 teaspoon vanilla ice
1/2 cup of rock salt
You will also need:  2 sandwich-sized baggies, 2 gallon-sized baggies, and winter gloves.
*You can print off the ice cream in a bag recipe with step-by-step instructions by downloading your own free copy of our Fascinating Science for Kids ebook.
Ice Cream In A Bag Experiment with Step by Step Instructions: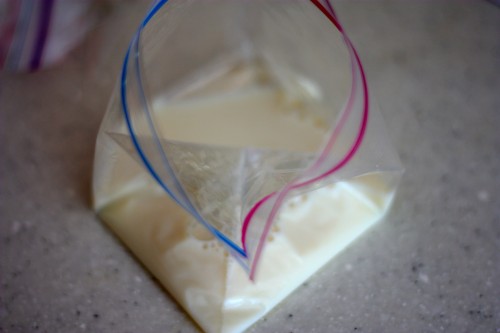 1. Pour 1/2 cup of half-&-half or milk into one of your sandwich-sized baggies. We used milk and it worked wonderfully. Add 1 tablespoon sugar and 1/2 teaspoon of vanilla extract. Get all of the air out and then seal the bag. Place your filled bag into another sandwich-sized baggie and seal.
 2. Put your double-bag inside of a gallon-sized baggie and add your ice and 1/2 cup of rock salt. Place this bag inside another gallon-sized bag (you will have 2 small bags and 1 large bag inside).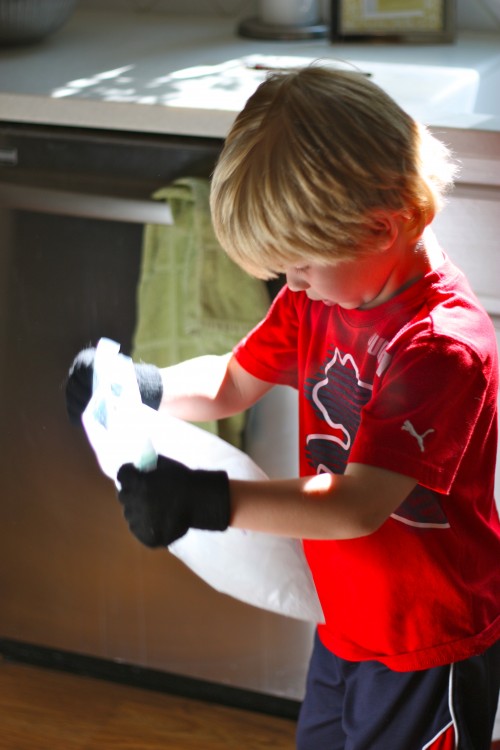 3. Have your child put on some winter gloves and start shaking!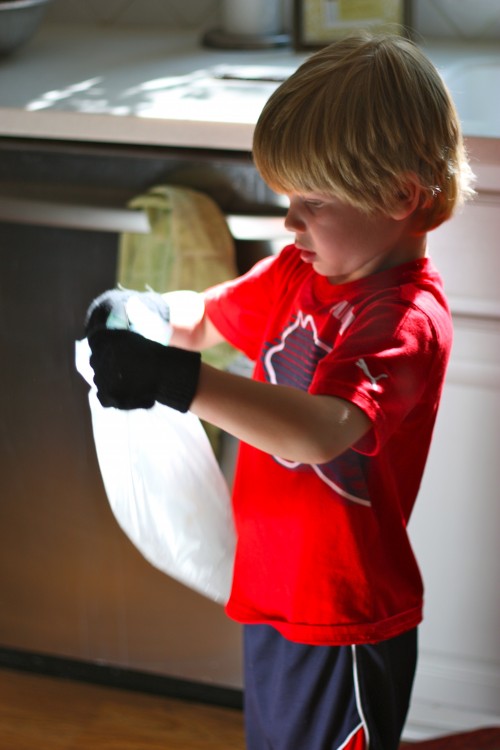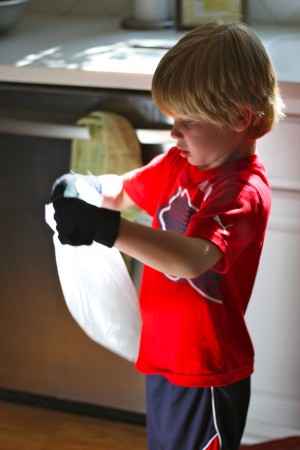 Shake the bag for about 15-20 minutes, passing it around the various members of the family!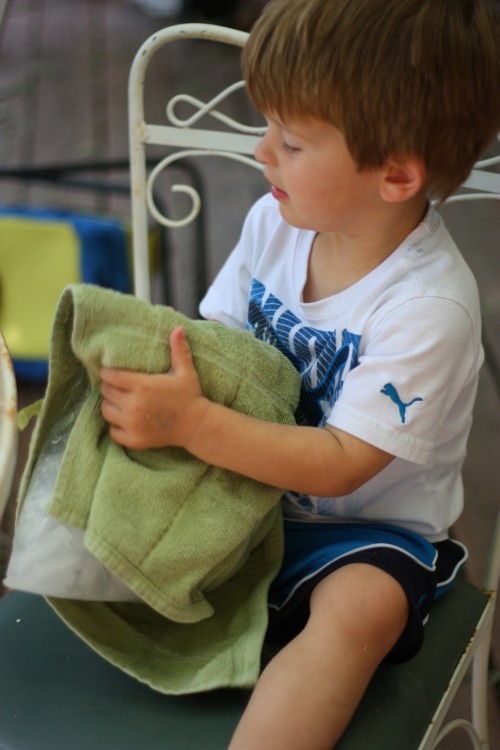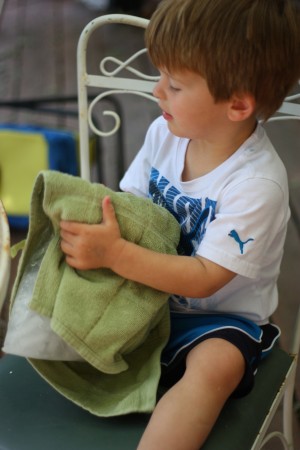 I put a dishcloth around the bag when it was Little Brother's turn…he karate-chopped it more than anything, but it turned out just fine!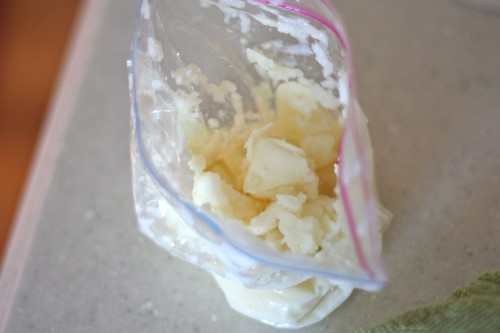 All done! Nice and soft, but still slightly solid!
 Ready to be served! This only makes a serving of ice cream. If you want to double the recipe, you can (just use quart-sized baggies instead of sandwich-sized). Don't attempt to do any more than doubling, though, or it will be too heavy for the child to carry when you add ice and rock salt.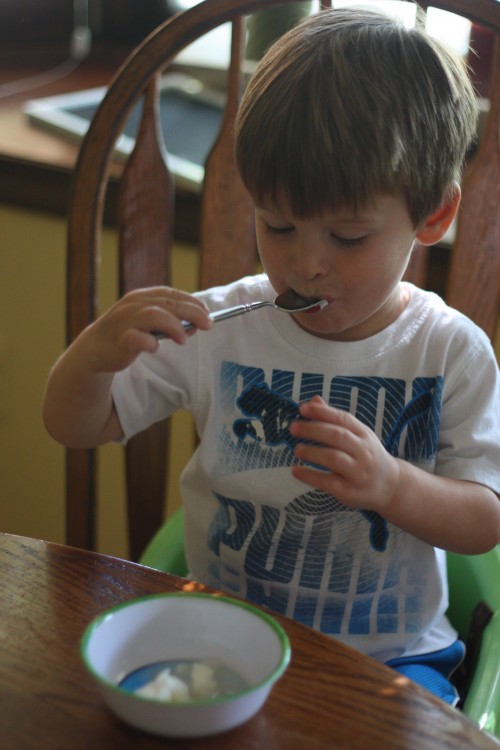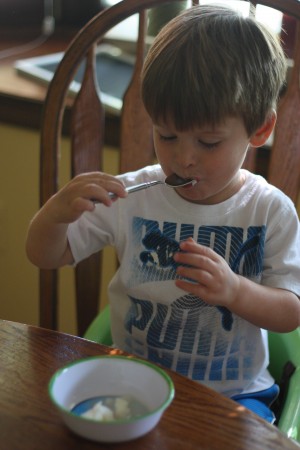 Little Brother approved!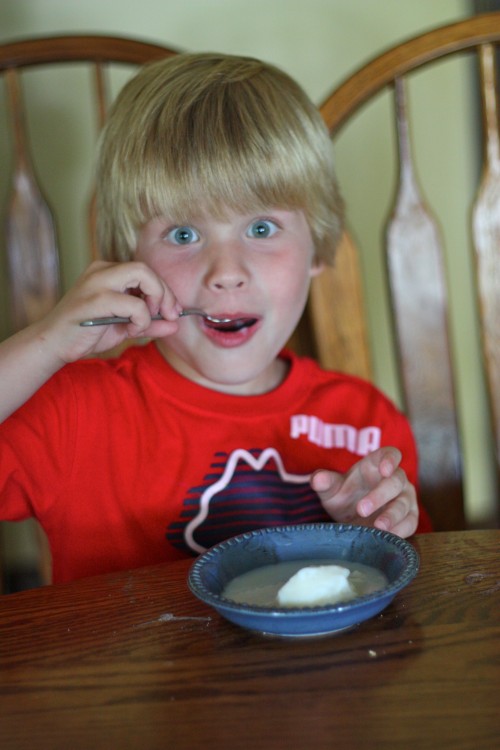 Definitely Big Brother approved! He was SUPER excited about how yummy "his" ice cream turned out!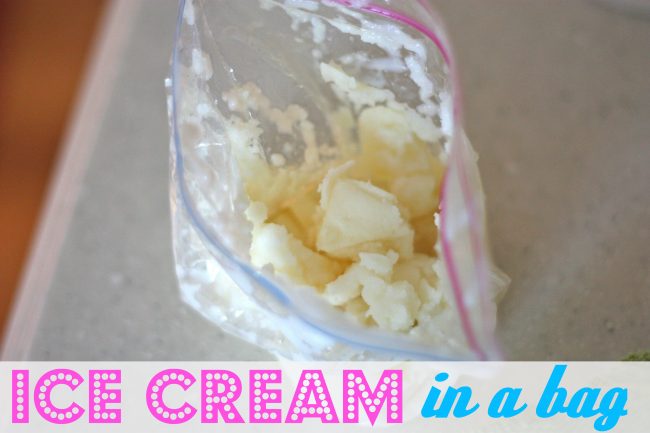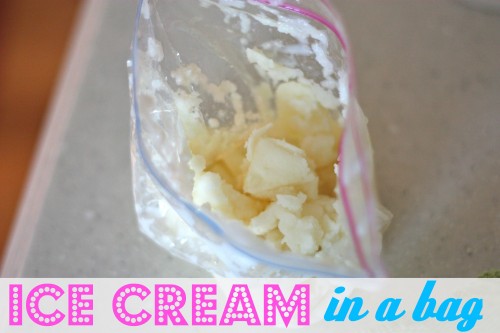 The Science Of Ice Cream In A Bag:
The salt lowers the temperature at which ice freezes, or raises the temperature at which it melts (which is why we use it on the roads in the winter). Instead of melting at 32 degree Fahrenheit (0 degrees Celsius), the rock salt causes the ice to melt at a temperature much lower, depending on how much salt you add. The more rock salt you use, the lower the temperature the ice will melt at. This creates an environment that the ice cream mixture can freeze below the normal 32 degrees. Then the salt/ice slush absorbs the heat from the cream mixture, lowering the temp of the cream and causing the cream to 'ice', creating the yummy ice cream texture!
This post was first published May 2012. Last updated 2018.
If you liked making this ice cream in a bag download your free Science eBook,  that has this ice cream in a bag experiment and 14 other science experiments…
Click below and enter your e-mail address. You'll immediately receive an e-mail that will have the link to the eBook!

Click here for more fun science activities for kids…
25 Awesome Science Fair Project Ideas For Kids
Gross Science Experiments For Kids
Making It Rain: Cloud In A Jar