It's Day 11 of our 31 Days of Indoor Fun for Toddlers series! We shared days 9 and 10 over on Instagram, so you can check them out on my Instagram profile or see them all in one spot using the #31DaysofIndoorToddlerFun hashtag!
Today's activity was a variation of our Olympic Ice Skating for Toys activity we did two years ago during the Sochi Olympics. I thought it would be a great activity for Little Sister, especially as we are learning "opposite words" like hot and cold (here is another super simple hot/cold activity).
Here's what you'll need:
-A shallow tray (I bought ours at Ikea)
-Water
-Small toys or figurines
-Optional:  foam shapes
1. If you are using foam shapes attach them to the bottom of the tray and then carefully fill the tray with water.
2. Freeze the water. It was cold enough here that I just stuck the tray outside overnight and it was frozen solid by morning!
3. Bring the tray inside and let your child feel how cold and slippery it is.
4. Add some toys or small figurines and encourage your child to take them "ice skating".
Big Brother wanted to see what the ice felt like on his feet…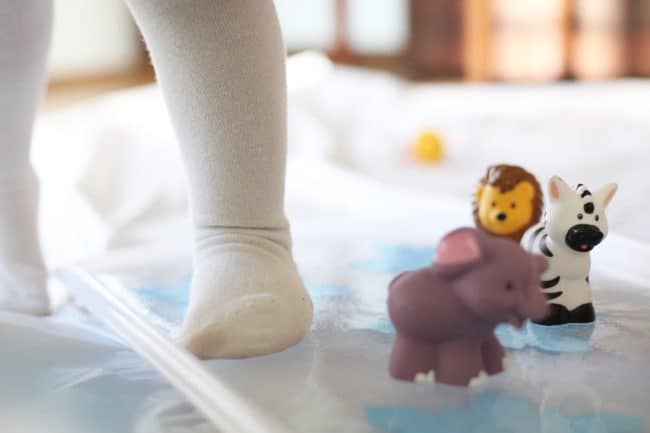 …so, of course, Little Sister had to try it as well (although she had tights on so it didn't work as well). :)
Continue playing until your child loses interest.
Little Brother thought his LEGO minifigures would like to try ice skating.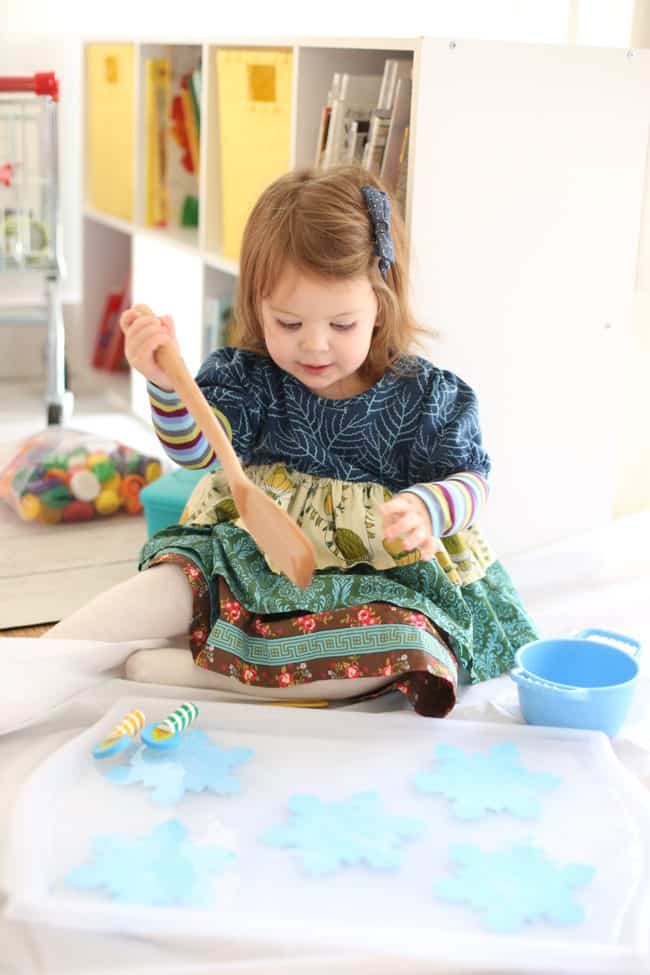 When you are all finished, let your child try to crack the ice.
And there you have it, the ice is gone. If you wanted to continue the learning, you could also see how long it takes for the ice to melt or add salt to it and see what happens!