How to Keep Your Kids' Beds Looking Neat (Beddy's Giveaway)
Is getting your child to make his/her bed in the morning like pulling teeth? Or perhaps once it's made, do you find yourself thinking it looked better 
unmade?
  Well, do I have a solution for you (spoiler alert:  it's
Beddy's
)!!!
Our boys currently share a bedroom. We have an extra bedroom that could allow them both to have their own rooms, but they enjoy sharing. My only frustration with their bedroom is that it always looks like a disaster.
We have two (bunk-able) twin beds in their room. We have arranged the room in an assortment of different ways. The beds were bunked for a while. I really liked the extra room the bunk beds provided, but we missed getting to cuddle up with them at night. We currently have both twin beds, scooted side-by-side so that the boys can lay close to each other but still have their own beds. This is what their room used to look like on a good day. Normally, there is a vast assortment of what can only be described as junk all over their floor.
And this is what their beds used to look like on the rare occasion that they actually make them (like they are asked to every. single. morning.). You have to pick your battles, ya know?
I wouldn't consider myself the least bit O.C.D., but it takes everything in me not to remake the bed myself, sans THE GIANT WRINKLES IN THE QUILT.
On one heavenly afternoon in late November/early December, I randomly divinely stumbled upon the Beddy's Instagram account. I was immediately intrigued. A zip-up comforter that would make making beds easier? Ummm, yes.  Sign me up, or rather…sign my boys up. :)  
Naturally, I e-mailed Beddy's and told them I HAD TO TRY THEIR AMAZING PRODUCT! And Betsy from Beddy's was so very kind and mailed me two Nautical Navy sets that very afternoon!
It's been over a month now since our Beddy's arrived and I am in love! Everything you need for your child's bed is included in the set, including matching shams! You don't need sheets because the Beddy's system is all-in-one. It fits over the mattress just like a fitted sheet!
The bottom of the Beddy's is like a sheet and the top part is made using minky fabric. Our boys love how soft it is! There are zippers on both sides, so it feels more like a comforter than a sleeping bag. The double zippers also make it easy to use on bunk beds, trundles, and day beds. The minky even has flaps on each side so that your child won't feel the zippers while he/she is sleeping.
Beddy's is also super easy to wash. Just take it off the bed and throw it in the washing machine (on gentle). Put in the dryer (on low) and then unzip to air-dry for a couple additional hours.
I love that I was able to buy a classic-looking Beddy's set and still use our beloved Pottery Barn Madras quilts (that we've had for several years) at the foot of the bed. There are lots of adorable options for girls (the ruffled ones are my favorite)!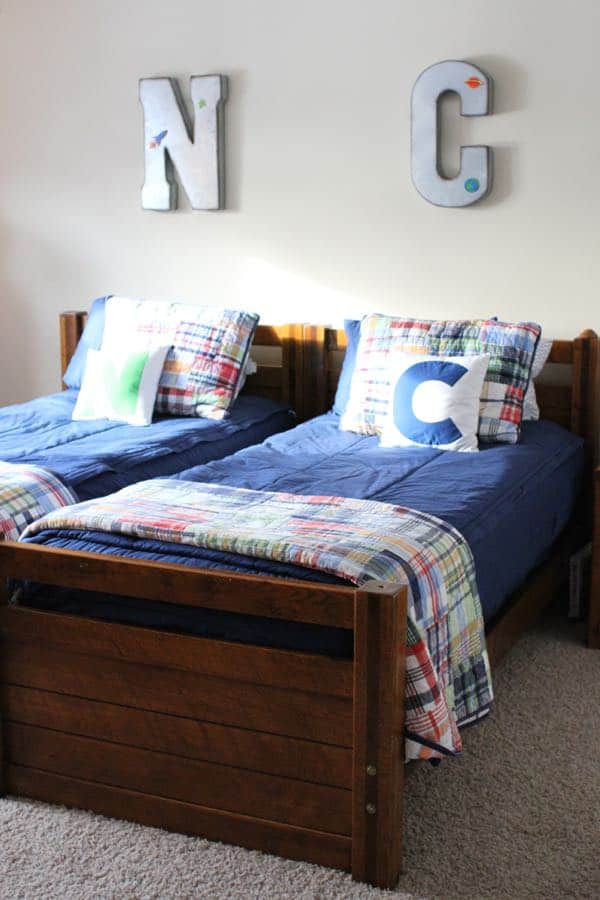 And the best thing? THE BOYS CAN EASILY MAKE THEIR BEDS (AND IT LOOKS NICE) EVERY SINGLE MORNING! They think it is fun to zip up their beds!
Overall, if you are looking for an awesome solution to bunk beds or a simpler way for your child to make his/her own bed every morning, BEDDY'S IS FOR YOU!
Interested in trying out Beddy's? Get $40 off using the code "BEDDYS40"!
Beddy's has also graciously offered to give away TWO $75 gift cards! Just fill out the info below!
To enter, just leave your e-mail address in the Rafflecopter window below (not in the comments, please). This giveaway is open to U.S. residents only (apologies to my international readers). The giveaway will end at 11:59 pm on Thursday, January 15th (EST). TWO winners will be randomly selected shortly after and notified by e-mail. By entering, you are agreeing to these official rules. a Rafflecopter giveaway
Disclosure:  I received this product in exchange for an honest review. All opinions are 100% mine.