Kid-Made Kite: Craft for a Windy Day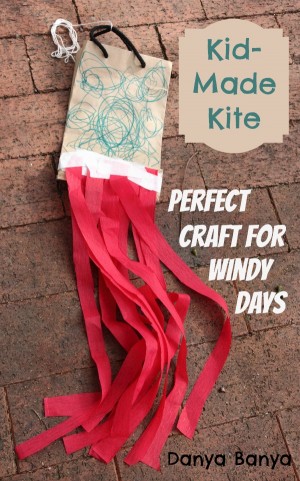 Guest Post by Danya of Danya Banya
One particularly blustery day, my three year old daughter JJ was inspired to make a kite. I love it when she initiates craft! So I gathered up a few materials, and helped her make one.
We used:
a paper bag with string handles
long strips of crepe paper (or you could use streamers)
masking tape
a coloured marker
scissors
kitchen twine (optional)
To begin, JJ drew on both sides of the paper bag with a marker. She chose teal on this occasion, which I think looks quite lovely! A rainbow of colours would also look fabulous. Either way, drawing like this is great pre-writing practice. As you can see, JJ is still learning how to hold her marker, however at this age the important thing is that she enjoys drawing, and therefore wants to practice, just like she is here.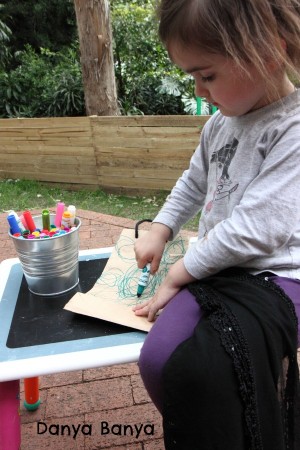 While she was working on her decorations, I set out pre-cut strips of crepe paper and pre-torn strips of masking tape along the side of the table for easy access. Then when she was ready, she attached the crepe strips along the bottom of the bag.
It would have been easier and neater for me to do this step for her, but that would have robbed her of the opportunity to do it herself. JJ spent a long time considering where each new crepe strip would go, and it was quite fiddly work for her to attach each one. Working with sticky masking tape like this is great for developing her fine motor skills; exercising all those small muscles and tendons in her hand and fingers that she will need later on.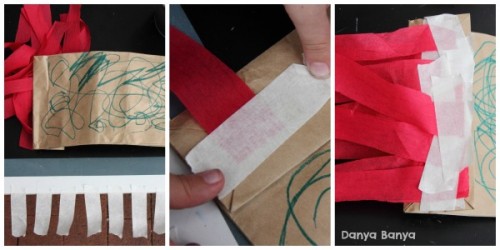 And because JJ insisted that a kite needed to have a string, I tied a section of kitchen twine though the handles of the bag. (For toddlers, you might want to skip this step as it is easier to fly the kite by holding onto the handles directly.)
And of course then we had to give it a whirl! The idea is that the child holds onto the twine (or handles) and sways the kite from side to side, feeling the wind tug on the kite and watching all the crepe strips flap around in the breeze.
It's a great way to enjoy the change in weather. And they get to enjoy that sense of accomplishment of having made something themselves.
Later that afternoon we chatted about the various shapes of kites and JJ asked if we could make a diamond shaped one. Yay for the second child-initiated craft of the day! JJ decorated some cardboard with markers, which I then cut into a diamond shape, and drew on horizontal and vertical lines. I then attached a tail of kitchen twine, twisting on some crepe paper to add embellishments to the tail. This kite doesn't fly, but it was still lots of fun to make on a windy afternoon.
What do you like to do when it's windy?
Danya is a fun mum to daughters JJ and Bee. Together they play, create, laugh and love. You can read about their antics on Danya Banya, and you can connect with Danya on Facebook, Twitter and Pinterest.