We were under a tornado warning for almost 2 straight hours last night with the sirens blaring about a half-dozen times. Living in tornado alley, this isn't an uncommon occurrence during spring evenings. But after seeing the devastation in Joplin a few weeks ago, there is no way that I will ever take a tornado warning lightly again.
To ease a bit of the tension from last night, Big Brother and I made our very own tornado using 2-liter bottles (idea from here)!
Here's what you'll need: 2 2-liter bottles, duct tape, and water. If you want it to be drip-free, I would suggest a Tornado Tube. Otherwise, it will drip a little bit. Also, you can add food coloring and glitter (for debris), but I wouldn't suggest doing so unless you have a tornado tube
as it will leak.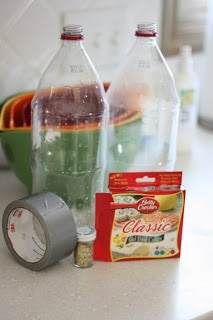 (Omit the food coloring unless you are using a tornado tube
)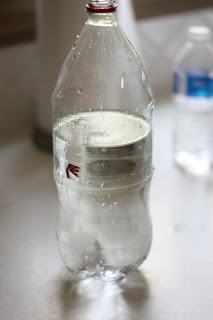 1. Fill one 2-liter bottles up about 2/3 with water.
2. Place the other bottle on top, lining up the openings as best you can.
2. Duct tape the two bottles together as tightly as possible (it will still leak a little bit).
Take it outside (because it leaks) and turn it upside down (so that the water is in the top bottle). Spin counter-clockwise.
Watch your tornado form and repeat!
If you have an older child interested in learning about tornadoes, go here for more information on how/why they form.
Literature Link
Tornado Alert
by Franklyn M. Branley
This book explains tornadoes so that even preschoolers can understand. Gives young children an understanding of tornadoes, the danger involved, and how to stay safe.