Making It Rain: Rain Cloud In A Jar
Making It Rain
Due to Big Brother's fascination (and fear) of various types of weather, I thought now would be a great time to start a new Weather Thematic Unit.  We're not forecasted to receive any rain for the next couple weeks around here (which we desperately need), so perhaps our little experiment will rub off on the weather!
This water cycle project idea (and many others that we'll be trying) came from Weather Wiz Kids. Take a look at the site (created by a meteorologist), it's got tons of great ideas!
How To Make It Rain
You will need:
glass jar
plate
water
ice cubes


What to do:
1. Heat your water until it is steaming.
2. Pour the hot water into a jar until it is about 1/3 filled. Put a plate on the top of the jar. Wait a minute or two before the next step.
3. Put the ice cubes on top of the plate and watch closely to see what happens inside the jar.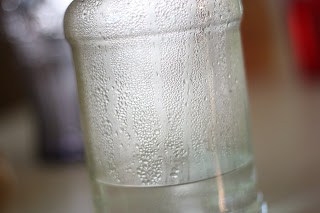 4. Streaks of water will run down the side of the jar, making rain!
This rain in a jar activity would probably be more appropriate for children who are slightly older, but Big Brother enjoyed it (for about 20 seconds, anyway). :)
Can Your Science Explain Why It Rains?
Wonder what makes it rain… Go here under "explanation" to find out!
This post was first published June 2011. Updated 2018.
Literature Link
Rain
by Robert Kalan & Donald Crews
A colorful and wonderfully-illustrated book for young readers, simple and repetitive!
Click here for more easy science ideas:
How To Make A Homemade Lava Lamp
Oobleck Recipe: Liquid or Solid?
Awesome Science Fair Project Ideas for Kids