My husband loves meatloaf. I, on the other hand, am not a huge fan. Something about slicing a pan of meat like bread just makes me lose my appetite. But I think I might have found the perfect marriage…my friend Beth's meatloaf (which is the best meatloaf we've ever had) with this idea to use muffin tins for meatloaf! I even put some meatloaf in some mini muffin tins for the boys. Big Brother declared the meatloaf muffins "fantastic" (his new favorite word) and Prince Charming loved them as well! Hooray…I cooked something everyone liked AND ate!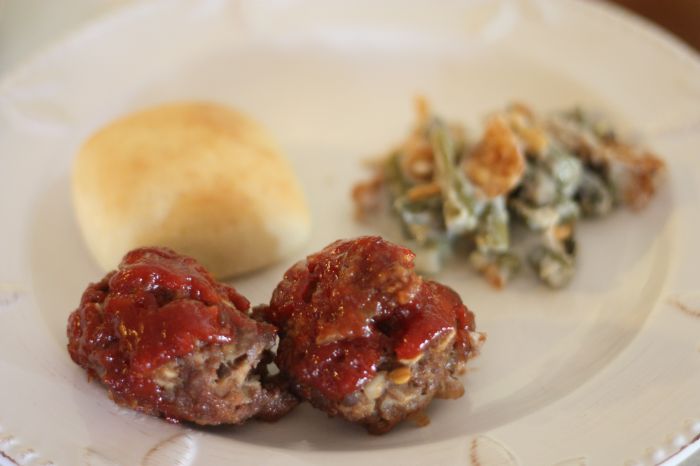 Here's the recipe. Or you can use the Printable Version.
Meatloaf
2 lbs. ground beef
1/4 teaspoon chili powder
1/2 cup ketchup
1 teaspoon salt
1/4 teaspoon pepper
1/2 medium onion, finely chopped
1 teaspoon beef boullion
1 teaspoon Worchestershire sauce
1/2 cup bread crumbs
1/2 cup oatmeal
2 eggs
1 teaspoon mustard
Sauce
1 cup ketchup
1 cup brown sugar
2 teaspoons mustard
It looks like a lot of ingredients, but you probably have most of them already in your pantry/refrigerator!
First of all, you'll need to dice your onion. This step literally took me 15 minutes (yes 15 MINUTES) because I am apparently inept at chopping vegetables. If anyone has any pointers, let me know. Maybe I need to take a class or something!
Dump all of the meatloaf ingredients in a bowl.

Mix together. You can start off with a spoon, but you're only fooling yourself…
You're gonna have to get your hands dirty. I know…this part completely grosses me out too.
Spray your muffin tins with nonstick cooking spray.
Make little balls with the meat mixture and put inside of the muffin tins. This picture gives you a good idea of how much this recipe makes. You could easily half it (and have leftovers). But go ahead and make the whole batch and freeze half of it before cooking…as long as your meat wasn't already frozen before. If you're using frozen meat, go ahead and cook them and then freeze. They won't be quite as good frozen and reheated, but refreezing thawed meat is a big no-no. Better yet, just make half the batch for a friend or someone who could use a hearty meal!
Next, you'll need to mix the ingredients for the sauce:  1 cup ketchup, 1 cup brown sugar, and 2 teaspoons mustard!
Put a tablespoon of sauce over each meatloaf muffin (less for mini muffins).
Bake at 350 degrees for about 30 minutes, or until there is no longer any pink.
Yummy!
How about you…are you a meatloaf lover or hater?