Our New School/Craft Supply Organization
Organization is apparently not my thing. Try as I might, I just can't seem to stay organized! This presents an assortment of complications, one of them being I can never find what I'm looking for. This is especially true for school and art supplies. Things seem to get buried in the bottomless pit of "organizational methods" that I've tried (and failed at) before. And after Stacie's guest post last week, I was motivated to get things organized around here…well at least the school supplies anyway.
This is my new favorite organizational tool:  an over-the-door shoe organizer!  A comment from Kate on Stacie's guest post last week tipped me off to this idea and it is pure genius! I got my shoe organizer at Lowe's for $12, but you can also buy them here.
There are two main things I love about this:  (1) it is clear so you can see exactly what you're looking for and (2) it doesn't take up any space…it just hangs on the back of a door! We have it hanging on our pantry door because we usually do our art projects in the kitchen. Our art supplies are literally 2 steps away and arranged in a way where we can see what we have! I feel like doing a happy dance.
If you're interested in seeing what supplies we have in our "organizer", click on the two pictures below to enlarge.
Here are the top 3 rows: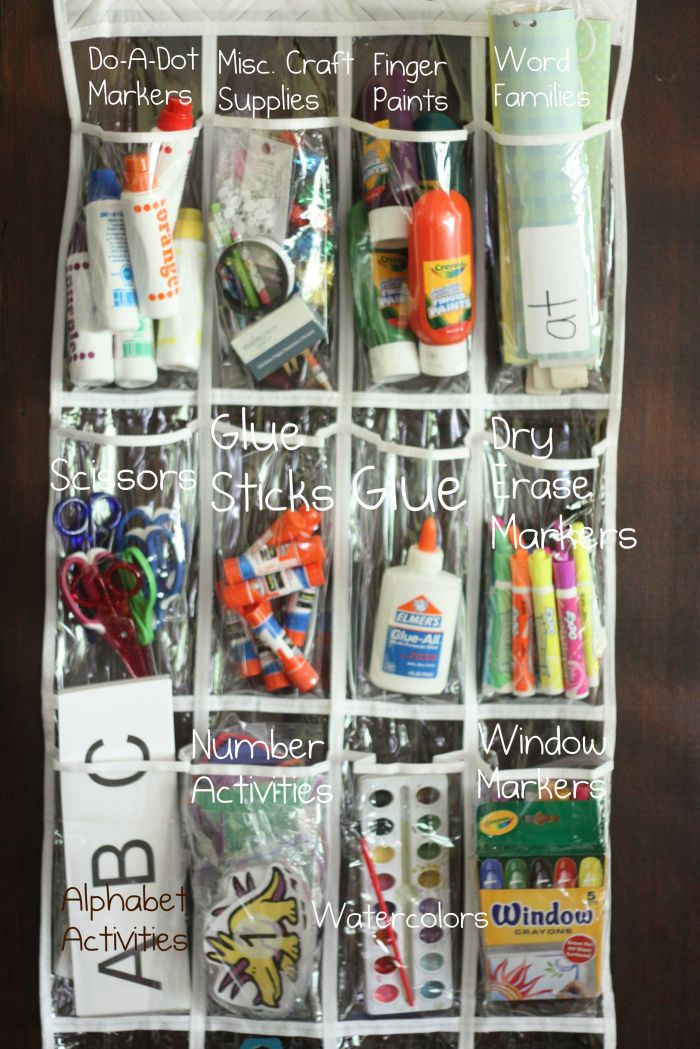 And the bottom 3:
I was so excited about out how organized I was feeling…I tackled my two junk drawers as well! Aren't you proud, Beth?
On to the rest of my house…or perhaps I'll just read a book instead. ;)