I was in charge of teaching our children's church for two to six-year olds this last Sunday. I was scouring the internet for ideas and came across this adorable paper bag manger craft. Naturally, I had to put my own spin on it (especially since you had to register for the printable baby Jesus).
I did all of the prep work ahead of time, so the kids just had to assemble their mangers at church as one of our centers, along with these Nativity Printables (sequencing, patterning, ordering) as another. I read the story of Christ's birth from The Jesus Storybook Bible and for the remaining time, we watched The Very First Noel. Things didn't go exactly as planned, especially since we had been up almost the whole night before with Big Brother as he had the stomach flu. But the children's mangers turned out to be very cute!
Here's what you'll need:  a brown paper bag, a slotted clothespin, doll hair (optional), permanent maker, gauze, and foam glitter stickers. I used the X-acto knife and self-healing mat that we received compliments of Elmer's Craft it! and it made cutting the bags SUPER easy!
1. Trace a window shape onto your paper bag and use an X-acto knife to cut. If you're just cutting one (as opposed to 30 like I did), you could use scissors, although it will take quite a bit longer.
Once you open the bag, it will have windows on the sides of the bag too!
2. Write your caption in permanent marker at the bottom of the bag.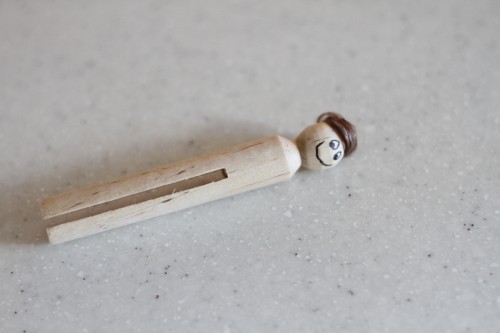 3. To make Baby Jesus, draw a face on the round end of the slotted clothespin. We glued a little doll hair curl (that I bought at a craft supply store) on the top of each of our babies.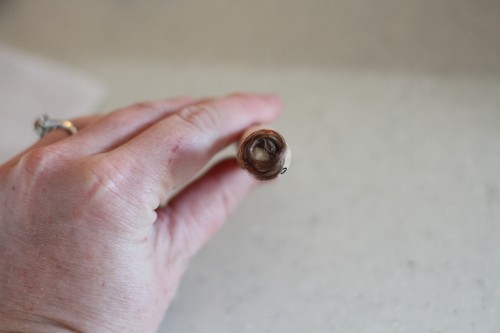 4. Cut a small piece of fabric to act as the swaddling cloths. I used gauze because we had lots of it already on hand.
5. Wrap up the baby!
6. Fold the top of the paper bag down about an inch and staple. Attach the glittery foam sticker.
7.
What is your favorite CHRISTmas craft?