Babies love to see pictures of themselves (and the people they love). They also love to to open things…so today we're using a couple travel packages of baby wipes to act as doors and windows on a felt house! The opening and closing of the "door" and "windows" will provide great fine motor practice for your little love.
Although this little house looks a bit labor intensive, it took less than 45-minutes to make (with several distractions, mind you). It would make for a great handmade birthday or Christmas gift!
Here's what you'll need:  a piece of cardboard, various colors of felt, 3 packages of travel wipes (Target brand 40 ct. is what I used), a hot glue gun, 3 pictures of loved ones, packing tape and scissors.
Here is an example of the wipes package I used.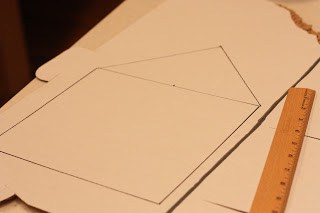 1. Trace a rectangle and triangle on a piece of cardboard to make a house. My rectangle measured 8.5″x9.5″.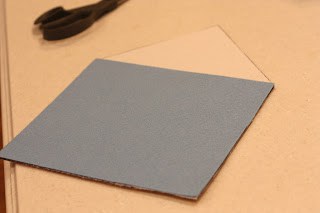 2. Cut out a piece of felt (8.5″x9.5″) and hot glue it onto the rectangle.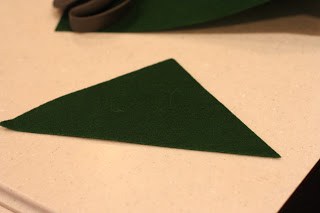 3. Trace the triangle onto a piece of felt and cut it out as well. Hot glue it on the cardboard.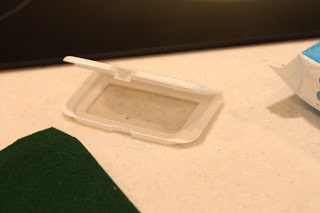 4. Remove the plastic opening off of the wipes package.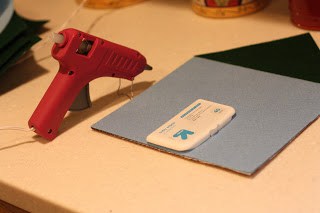 5. The plastic "door" will still be sticky on the bottom, but go ahead and put some hot glue on the bottom of it to ensure it stays in place.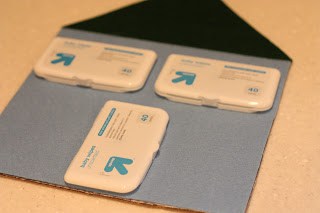 6. Attach the door and two windows with hot glue.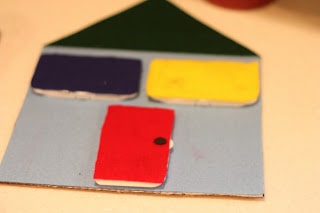 7. Hot glue pieces of felt on top of the plastic.
8. Use gray felt to make window panes and two windows beside the door.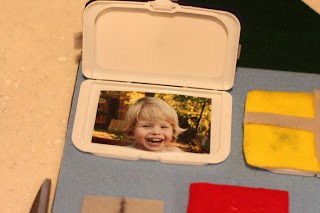 9. Use packing tape to secure a picture in each of the openings (or you could also put the pictures down FIRST and then hot glue the plastic pieces on top).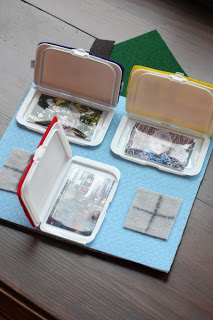 We put a picture of each of the boys in the upstairs windows and Prince Charming and me in the front door opening. :)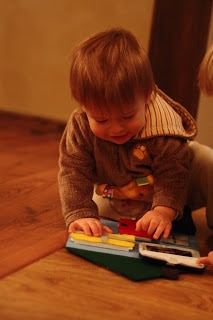 Little Brother L-O-V-E-D it!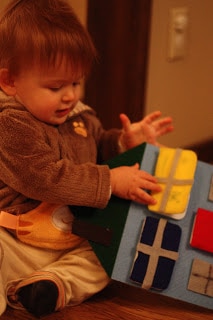 I did have to open the containers so that they weren't completely secure, but still shut, so that he could lift them open. I'm okay with that, though, because the house will be able to grow with his fine motor abilities!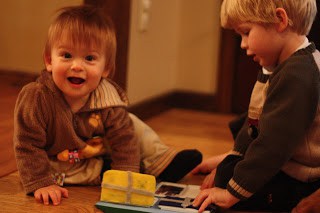 Just look at that happy face! Big Brother got a kick out of it too! :)
You could also add various textures (like sandpaper, cotton balls, etc) to make it a sensory activity as well…too bad I thought of that AFTER I made it! :)