Make A Personalized Candle For Mother's Day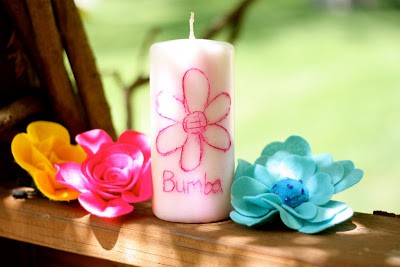 Mother's Day Candle Gift 
Don't you love it when your kids make up the names for their grandparents. Big Brother started calling my mom "Lola" (her name is Loretta) when he was about 18 months old and it has stuck. Our candle above says "I (heart) Lola", though you can't see all the letters wrapped around the candle. He calls his other grandma "Bumba"…a name he created all on his own as well. :)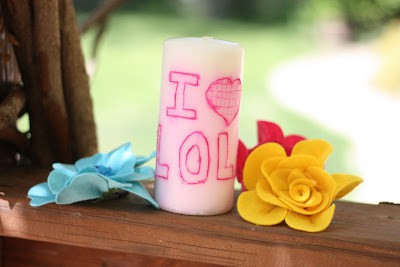 We had so much fun making these candles for both grandmothers! The best thing about this craft is that it grows with your child. If you have a young child, you can make the design and your child can paint. If he/she is older, your child can do the design AND paint!
DIY Personalized Candle
Here's what you'll need:  a pillar candle, some toothpicks, paint, and paper towels.


How To Make A Personalized Candle 
STEP 1. Use a toothpick to "etch" the design in the candle (or allow your child to do this if  he/she is old enough). I did the majority of the design and let Big Brother write his name on the back with a pen (and deepened it afterwards with the toothpick).
UPDATE:  With our second candle, I had issues with the toothpicks breaking. I used our "corn on the cob" holder and it worked great! I, of course, would not allow a child to use one of these since they are very sharp!
Step 2. Brush away the excess wax.
Step 3. Choose your paint colors and get your paint brushes ready.
Step 4. Get your child to paint on top of the etched design in the personalized candle.
Step 5. Use a paper towel and wipe off the paint on the surface of your personalized candle. If necessary, use a damp cloth to remove paint from around the lettering/design.
Step 6. If necessary, use a toothpick dipped in paint and fill in the "gaps" in the design.
Step 7. Repeat the painting process for the back of your candle gift.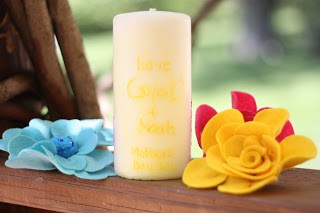 The yellow didn't show up very well, but Big Brother insisted since it is his favorite color.
I made the letters too big on our personalized candle gift and couldn't get them on a single picture, so here is two pictures combined to show the entire front. :)
Happy Mother's Day!
Check Out More Great Mother's Day Gift Ideas 
5 Mother's Day Crafts Preschoolers Can Make
Personalized Mother's Day Tea Towel
First published 2011. Updated 2019.