Pounding Golf Tees into a Pumpkin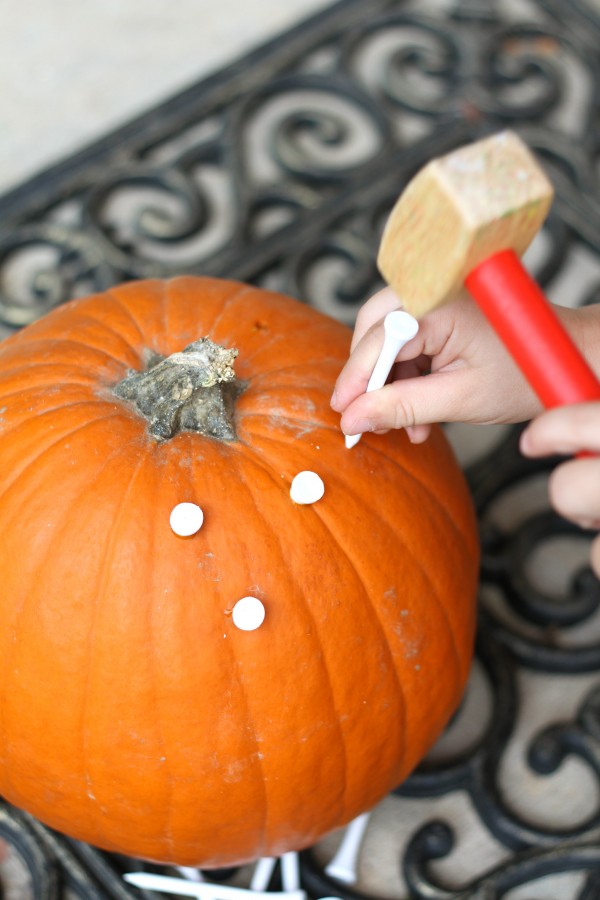 This was one of those ideas that I had on a whim that ended up being a HUGE success (as far as engaging the boys, anyway). Big Brother worked on pounding golf tees into a pumpkin for OVER AN HOUR and then continued working on pounding golf tees into the pumpkin the next day as well! Talk about some awesome fine motor practice for both Big Brother and Little Brother! Although this isn't technically "carving" a pumpkin…it could certainly take the place of it, especially if you don't want to bring out the knives. :)
Here's what you'll need:  a pumpkin, golf tees, and a wooden mallet (or a small hammer, if you trust your child). :)  We used the wooden mallet from this toy and it worked wonderfully.
 Give your child the tees, the hammer/mallet, and the pumpkin. Let him/her get started pounding away.
Although we could have easily made a design (and it would have probably looked much cooler), I decided to just let Big Brother do whatever he wanted. He was so proud of his pumpkin after he was done!
 This picture just screams "fall" to me…except for the fact that my yellow mums aren't blooming yet! :)
Having fun!
 After Little Brother woke up from his nap, he wanted to get in on the fun. He wasn't quite steady enough with the mallet to pound effectively, so we just took all of the golf tees out and let him put each one back into the holes!
 It was just perfect for his age and ability!
This was a complete afterthought, but it turned out to be quite beautiful! After the holes were already hammered, I cut the top off the pumpkin, scooped out the innards, and added a candle.
It makes a pretty festive nighttime fall display!