Printable Morning Routine Cards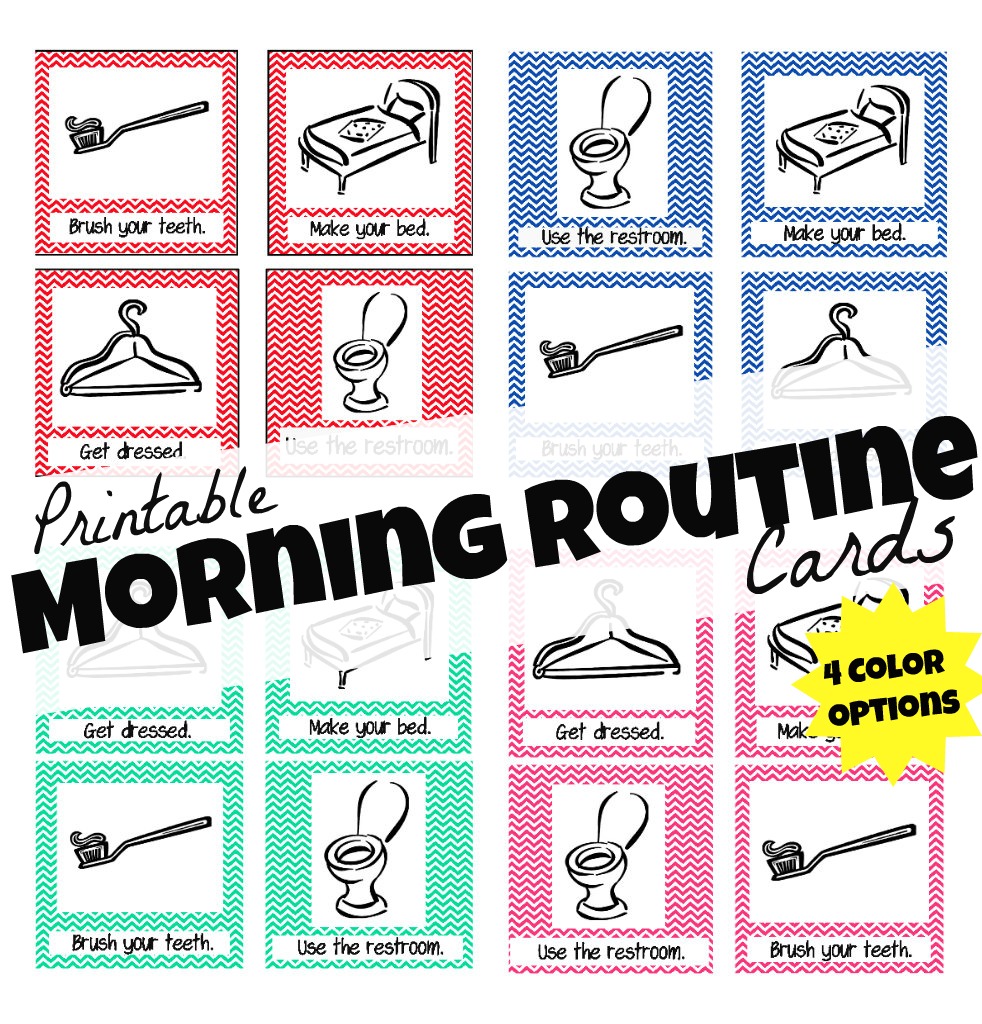 It's August, which means school is starting soon…and so are the crazy, chaotic mornings. Help minimize the frustration by using these Morning Routine Cards!
The purpose of these cards is to encourage a bit of independence in the process of getting ready for the day. And if you use a magnetic knife bar like we did, they are SUPER easy to rearrange and change (if needed).
Big Brother will be going to preschool 3 mornings each week at a local church-based preschool. School starts at 8:30am. I am the antithesis of a morning person, so establishing a morning routine is key for us this year. I decided I would start a few weeks early because I figured it would take a while to get the hang of this new Morning Routine Card system.
I couldn't have been more wrong. The night after we hung these Routine Cards in his room, he woke me up by saying, "Mommy, I already did all of my cards!" Sure enough…toothpaste on the chin, shirt on (backwards), and bed made! I was pleasantly surprised, to say the least!!!
And best of all, I want to share these Morning Routine Cards with each of you! Download and print your choice of 4 colors by clicking on the links below!
To make the cards:
1. Print your cards. I decided to mount them (and round the corners) onto some red scrapbook paper to add a little bit of contrast.
2. Laminate the cards. This step definitely isn't required but it will help them hold up longer. I have used this laminator for the last couple of years and I love it! I buy the generic pouches at Sam's (a box of 200 for $20) and have had great success!
3. Add your magnets on the back. I pieced the remaining adhesive magnet roll I had left (that was sent to me for free from CraftProjectIdeas.com). Ideally, you would magnetize the entire back…but I just used what I had on hand!
To hold the cards, I purchased this 18-inch Magnetic Knife Holder from Amazon. I wanted something that could easily be adjusted and something that we could add on to later down the road (once Big Brother can do his own hair, for example). :)  This has worked perfectly for us and is sturdy enough to survive my rough boys!!
And here it is on the wall, underneath my favorite picture of all time…
 Yep, his shirt is on backwards. But he dressed himself without me even having to ask, so I'm not complaining!
In addition to these Morning Routine Cards, I also bought a hanging closet organizer. They have some that already have the weekday names on them, but I opted for the cheaper route and then attached my own with some packing tape. :)  I also wanted to make sure we had a Sunday slot as well since we want our boys to look nice for church on Sundays.
On the days that Big Brother goes to Preschool and Church, he will have clothes ready and waiting for him in his closet. On the days that we are at home, he gets to choose whatever he wants to wear. After much thought, this was the best way I could come up with to ensure he isn't dressed like a pauper when he goes to school and church but also still gets to show some independence by choosing his clothing on the "off" days.
*After taking these pictures, I moved the weekday signs to the bottom of each shelf instead of the top. It was much less confusing this way.
It's been almost a week since we've implemented our new Morning Routine Cards and closet organizer system and it has been AMAZING!!!
My Potential Future Project…Making some Morning Routine Cards for MYSELF. First on the routine chart would be "Get your rear end out of bed before the kids." Do you think they have clipart for that??? ;)
*The links in this post are my affiliate links. Please read my full disclosure.