Printable Summer Schedule For Kids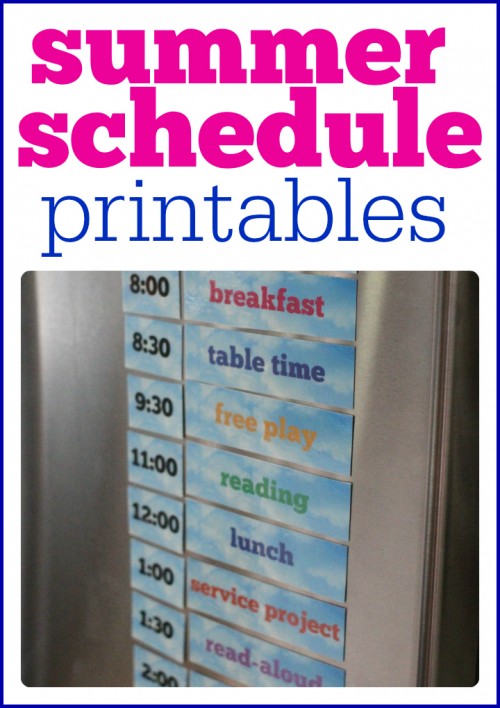 Summer Schedule For Kids
As a classroom teacher, I like to maintain order and routine in the classroom by following a pretty regimented schedule. This gives us predictability for the day and ensures that we accomplish everything we needed to accomplish. For some reason, this same characteristic has not transferred over to my stay-at-home mom life.
Since I am not a morning person I am content to just "ease into the day" (as my husband likes to call it) if we don't have anywhere we have to be. Before I can get my act together, it is nearly lunch time! All I know is that my sanity for the summer depends on some type of schedule!
Summer Daily Schedule
I created this printable summer schedule so that it can be interchangeable for varying days. My goal is to plan ahead the night before what our day will look like and make sure to arrange the schedule accordingly. I have one child who thrives on routine and predictability, so I know this will be very beneficial for him without being too regimented. :)
Once you download the printable schedule, you can print them onto magnetic paper, or laminate your daily schedule and use magnet tape to add them to your refrigerator.
Your daily summer schedule includes:
Get Dressed
Breakfast
Table Time (will vary each day: includes handwriting, workbook pages, puzzles, learning games, play dough, etc)
Free Play
Library
Park
Swimming
Screen Time
One-on-One time (my goal is to spend at least 30 minutes a week one-on-one with each child doing something of their choice)
Rest time
Lunch
Chores
Field Trip (zoo, museums, etc)
Reading (independent or audio books)
Read aloud (me reading to them)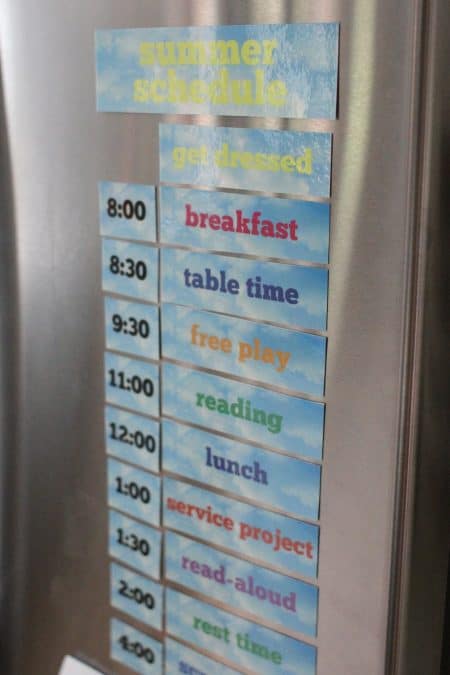 Add Your Own Summer Activities
I included blank summer daily schedule template for you to add your own summer activities as well. I did not, however, include dinner or any activities that come after dinner just because this time of day is already a well-established routine in our home.
30 Minute Increments
The printable includes 30-minute time increments from 8am to 5pm but also comes with blank clock faces that you can customize (which I will be using later in the summer to reinforce telling time).
Flexible Schedule
Despite how it may look, there will be a lot of flexibility in our day. Our daily summer activities are spread out enough to allow plenty of "down time" in between. I also asked the boys for some themes that interest them, so we will be doing some weekly activities related to their interests.
You May Also Like: Fun Things To Learn This Summer
Summer Reading
Finally, we're implementing a new screen time policy at our house. The boys can early 1 minute of screen time for every minute that they read (or listen to an audio book/book read aloud). I bought them both book timers and we're hoping to keep track this way.
You May Also Like: Summer Reading Printables
Do you have a summer schedule for your home???