After creating our One Fish Two Fish Red Fish Blue Fish Fishbowls last week, I have been smitten with the corn syrup paint. Every time I walk by their fishbowls, I can't help but run my fingers on the smooth, shiny surface. So I decided we needed to make something else with corn syrup paint…and what better than a Shiny Rainbow?!?!
Here's what you'll need: corn syrup, paintbrushes, an ice cube tray, food coloring, white poms (which we received courtesy of CraftProjectIdeas.com), glue and white card stock.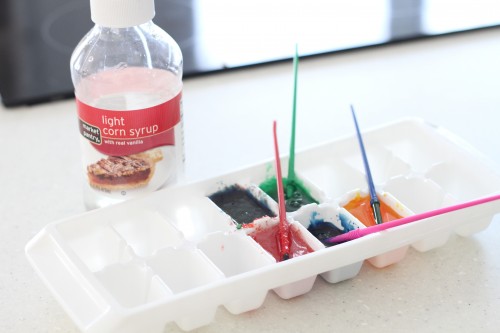 1. Pour corn syrup into the ice cube trays and then add food coloring. I ran out of red food coloring, so I dumped some red sprinkles in the corn syrup to do the trick. It even added a bit of texture. :)
2. Encourage your child to begin painting a rainbow!
3. Let the corn syrup paint dry for several hours.
4. Gather your poms.
5. Use glue to add your white poms onto the end of a rainbow.
Look! It's shiny even after it's dried!