Just stop one second. Take a look at the web address in your browser window. Do you see it? Do you see that big fat TRIPLE digit number at the top at the very end of the web address? Yep, this is the ONE-HUNDREDTH link up I have hosted. That means that for ONE HUNDRED weeks I have been posting this link up week after week, month after month. I don't know why…but it seems like this should call for some type of celebration. So this weekend, go out and buy your whole family some ice cream in my honor. ;)
AND I JUST REMEMBERED…in a little over a week, I will celebrate my three year blogiversary. It doesn't seem like I'm old enough to have had this blog for three years (despite the crows feet that have taken up permanent residence on my face when I smile). Holy cow.
Okay…moving on. There were lots of great ideas shared last week. Here are just a few:
Gift of Curiosity shares several 4th of July Montessori activities.
This clever game from Meaningful Mama is so sneaky, your kids won't even know they're learning. Try out this Zap It game with letters, numbers, sight words, vocabulary definitions, and more!
This Domino Addition game from Discover Explore Learn looks like a great learning opportunity this summer!
Have an idea or activity to share??? Link up below! Next week I'll be sharing my favorites from the ones you submit!
Feel free to add the button to the post you're submitting! Just save the image below and add a link to the homepage (http://wwwicanteachmychild.com).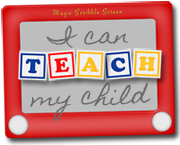 *By linking up, you are granting me permission to use and/or repost photographs from your blog.
[field name=embed]
Can't see the link-up? Go here.