There were lots of great ideas shared last week. Here are just a few:
Do you have leftover candy canes from Christmas? Gift of Curiosity shares a Candy Cane Science Experiment!
Get this free printable syllable game from Playdough to Plato…counting the "beats" within in a word is a great phonemic awareness activity!
I wish this tutorial would have been around a few years ago…prior to the gnawing marks on our wooden crib! At Altitude shares a DIY tutorial for creating your own crib rail teething pad!
Have an idea or activity to share??? Link up below! Next week I'll be sharing my favorites from the ones you submit!
Feel free to add the button to the post you're submitting! Just save the image below and add a link to the homepage (http://wwwicanteachmychild.com).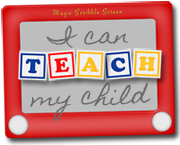 *By linking up, you are granting me permission to use and/or repost photographs from your blog.
[field name=embed]
Can't see the link-up? Go here.