There were lots of great ideas shared last week, despite the issues with the link-up being temporarily unavailable. Here are just a few:
Meaningful Mama shares this awesome idea for making homemade thank you cards with pictures of your kids playing with/wearing their gift!
Tutus and Tea Parties is challenging us to a year of family-centered Random Acts of Kindness through Kids for Kindness. If you choose to participate, your family will complete one random act of kindness together each week for the entire year! What a great idea!
After the busyness that accompanies the holidays, reconnect with your family over the dinner table with these January Table Topics from Growing Book by Book!
Have an idea or activity to share??? Link up below! Next week I'll be sharing my favorites from the ones you submit!
Feel free to add the button to the post you're submitting! Just save the image below and add a link to the homepage (http://wwwicanteachmychild.com).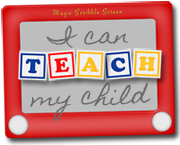 *By linking up, you are granting me permission to use and/or repost photographs from your blog.
[field name=embed]
Can't see the link-up? Go here.