There were lots of great ideas shared last week. Here are just a few:
Fantastic Fun and Learning shares 5 Simple Name Activities for Preschoolers. I'm excited to try some of these with Little Brother!
I absolutely love this idea for an Outdoor Mud Kitchen (using recycled materials and chalkboard paint) from Adventures at Home with Mum.
Growing Book by Book shared 5 Ideas for Organizing Books to Promote Toddler Interaction.
Have an idea or activity to share??? Link up below! Next week I'll be sharing my favorites from the ones you submit!
Feel free to add the button to the post you're submitting! Just save the image below and add a link to the homepage (http://wwwicanteachmychild.com).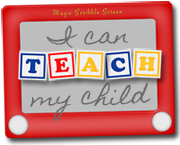 *By linking up, you are granting me permission to use and/or repost photographs from your blog.
[field name=embed]
Can't see the link-up? Go here.