I can't believe it is almost Christmas! Where has the past year gone?!?! Nevertheless, there were lots of great ideas shared last week. Here are just a few:
I love this idea for making an Alphabet Sticker Tree from Reading Confetti.
Want to conduct an impromptu science experiment over the Christmas break? Inspiration Laboratories shares this Candy Cane Science Experiment.
These cute MistleTOE decorations from Danya Banya are so cute!
Have an idea or activity to share??? Link up below! Next week I'll be sharing my favorites from the ones you submit!
Feel free to add the button to the post you're submitting if you would like! Just save the image below and add a link to the homepage (http://wwwicanteachmychild.com).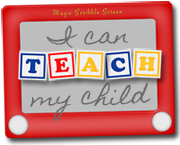 *By linking up, you are granting me permission to use and/or repost photographs from your blog.
[field name=embed]
Can't see the link-up? Go here.