Fun and Easy Sight Word Activities for Kids
Sight Words are an important component to a balanced approach to literacy. Learning to recognize sight words (the most commonly used words in print) helps children to become more fluent readers. These sight word activities for kids help make the process fun and engaging!
What are sight words?
Here is a short excerpt from my eBook I Can Teach My Child to Read:  A 10-Step Guide for Parents:
There are a lot of misconceptions as to what exactly a "sight word" actually is, especially in the blogging community. Words like "bed", "bathroom", "sink", etc. are not necessarily sight words. Yes, it is nice for your child to learn to read and spell these words, but they can be learned using basic phonics principles. Sight words, on the other hand, are the most common words we find when reading, which often do not follow the phonics rules that children may be learning. These words are not easily decoded (sounded out) and are often called "cheaters" because they don't play by the (phonics) rules.

Teaching your child to automatically recognize these sight words while reading will greatly improve her reading fluency. The National Reading Panel (2000) has defined fluency as "reading text with speed, accuracy, and proper expression." Fluency instruction should always be paired with comprehension—just because a child can read aloud quickly and accurately does not necessarily mean she is gleaning the important information and concepts within the text. Sight Word instruction, which aims to improve reading fluency, should take no more than 5 minutes each day.
Sight Word Activities
Here are several easy sight word activities that can be done in 5-10 minutes and will help your child learn their sight words. These make great sight word activities for kindergarten or preschool.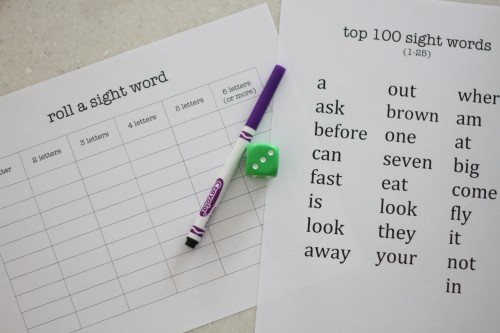 Extra Resources To Help You Teach Sight Words: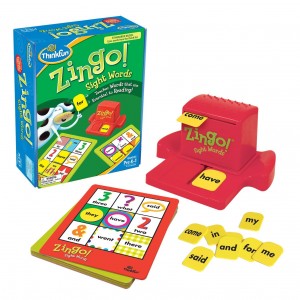 Big Brother and I frequently play this together. It makes the process of automatically recognizing sight words fun by turning it into a game!
These DVDs are helpful for when you just need a few minutes to get something done and want your child to watch something educational in the process. We haven't watched them all that much, but they are nice to have around. Read my full  Meet the Sight Words review.
Sight Word Apps for your iPhone or iPad:
Click here for more helpful ideas to teach your child:
How To Teach Your Child To Read
35 Fun Alphabet Crafts and Activities
Kindergarten Readiness: 33 Ways To Prepare Your Child For Kindergarten
This post was first published November, 2013. Updated 2018.