Simple Balloon-Shaped Homemade Matching Games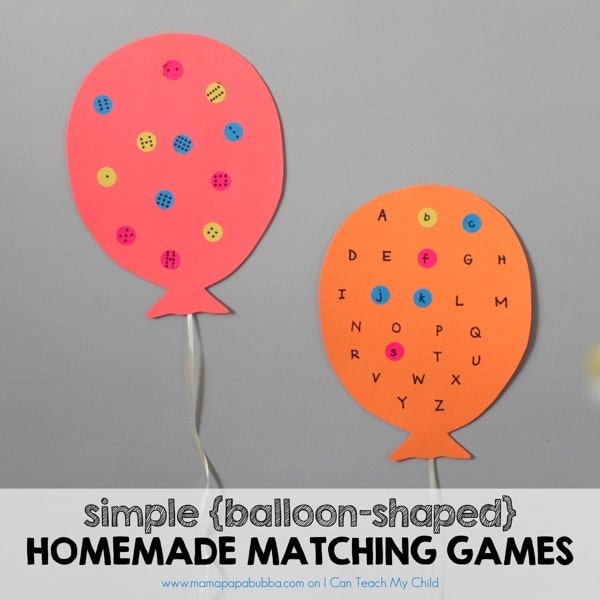 Guest Post by Jen of Mama.Papa.Bubba.
As a mama who loves to prepare engaging activities for my little one to discover and explore, I often find that the simplest, easiest to create ones are the most loved (and that suits me just fine!) This homemade matching game is no exception. I'm not sure if it's the stickers, the balloon shape, the fact that it involves matching, or a combination of all 3, but my little girl just adores this game and has for a long while now.
The best part is that it's pretty much a breeze to set up. For these games, we used a couple of balloon shapes cut out of card stock (of course any paper will do), some dot stickers (found in the office supply section of most dollar/big box stores), a permanent marker, some curling ribbon, and some tape.
Next, I attached a length of ribbon to the back of each ballon with tape and then got to work with my Sharpie. There are all kinds of different possibilities, but this time I put uppercase letters on the orange balloon with coordinating lowercase letters on the stickers, and numbers on the coral balloon with coordinating die patterns on the other set of stickers. I love this activity because you really can tailor it to your child's interests and abilities. Straight matching of shapes, texture patterns (dots, plaid, stripes, etc.), symbols, letters, and numbers is fun too!
Once the games are prepared, I normally leave one of them out on a table somewhere as an invitation to play. Without fail, the moment my little lady discovers it, she jumps up and dives in. This was the first time we'd tried matching numbers with die patterns, and though she started counting using her finger as a pointer, she quickly asked for 'something pokey' to make the process easier. I offered her a toothpick which worked great, and she continued on with her game.
One thing I try to encourage during these games is that she leaves ones that she can't find matches for so that she can come back to them later. The process of elimination helps greatly and she can almost always finish her game independently.
While working on a tabletop works great, a fun way to switch things up is by hanging the balloon at your child's level on the wall. We also like to vary our shapes depending on the time of year, so the game truly never gets old (you can see our Christmas version here).
Jen is a primary teacher turned stay-at-home-mama to a two and a half year old little lady. She strives to be an engaged parent, is passionate about play, and enjoys experimenting in the kitchen her munchkin. She loves a good DIY project, adores travelling, and has admittedly turned into a 'crunchy' mom. Her family's adventures, through the eyes of her daughter, are chronicled on her blog, 

Mama.Papa.Bubba

.  If you enjoyed this activity idea, pop on over to her 

blog

,  

Facebook page

, or 

Pinterest page

 to see more of how they play and create in their house. ☺