Story Sequencing :: The Little Old Lady Who Was Not Afraid of Anything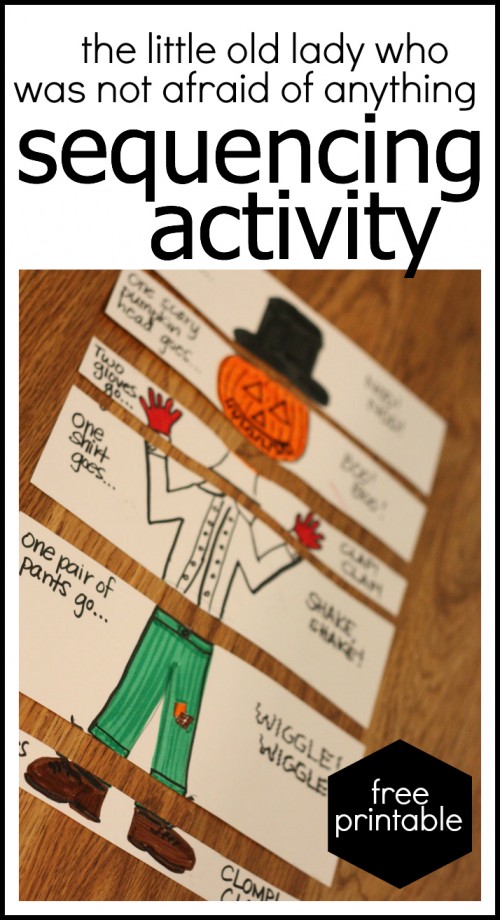 We love everything fall around here–pumpkins, leaves, trick-or-treating etc. but stay away from scary things. This is my absolute favorite "Halloween" book. If you don't have this book, you should…or at least check it out from your library. :)  And even though the word "afraid" is in the title, it is a really cute and not-so-scary book about a scarecrow (but shhhh…don't tell your child–it's a surprise at the end).
Your child will love acting out the "clomp, clomp, wiggle, wiggle, shake, shake, clap, clap, and nod, nod…" of the character in this story. A different clue is presented on each page…and while you're reading, your child can guess what the "thing" following this poor little old lady could be.
Back when I was in the classroom, I created a "story sequencing" center activity using sentence strips and a large pocket chart for this book. The sentence strips are way too big for Big Brother to handle on his own, so I recreated it on a piece of cardstock. Here it is…just promise not to laugh at my juvenile drawing abilities.
Update:  We have now created a printable! Choose either the color or black-and-white version below!
Cut the individual pieces.
This activity might seem simple, but it is a wonderful way to indirectly teach your child to "comprehend" what he is reading (or in this case, hearing). When a child retells a story or tells what happens throughout the story, she is demonstrating that she is truly comprehending what is going on. Predicting is an even higher-level thinking skill, so incorporate it into your daily read-alouds by asking your child what he thinks is going to happen next (even if he's read the book 100 times).
So often we think that decoding (the actual "sounding out" of the words) is what it really means to "read." This couldn't be further from the truth! Just because a child might be able to phonetically "read" words at age 6 doesn't mean that he can actually read. Yes, he might be able to orally say the words he sees in the book, but does he know what he is reading? Does he understand what is happening? Can he predict what he thinks will happen next? Does he relate the story with something from his own life? All of the previous questions involve reading comprehension and it is truly the essence of "reading." Without understanding what is being read…what is the point in decoding??? That's why we must encourage our child to retell stories, predict what will happen, and ask questions that encourage them to connect with the book on a personal level.
After you've read the book with your child and used the "pieces" to create the scarecrow, you can just leave it out and let him/her use it as a puzzle! I guarantee this will be an activity your child will enjoy doing over and over again…especially since he can clomp, wiggle, shake, clap, nod, and "boo" to his heart's content!