Swimming Lessons: Why Every Child Needs Them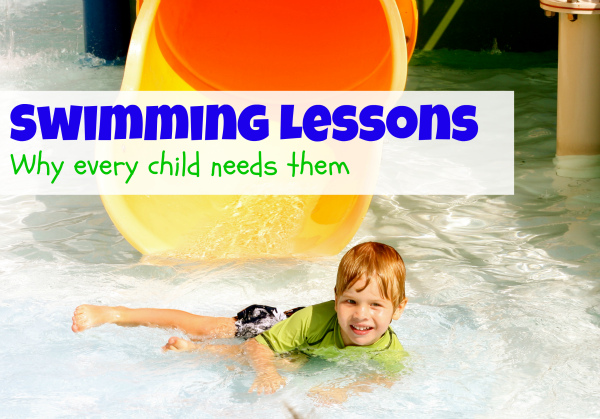 As summer draws near and we spend more time in swimming pools and lakes, it's important as parents of young children to be extremely vigilant around the water.
Here are some alarming statistics about drowning from the CDC:
-Drowning is the second-leading cause of accidental death for children under 14 years of age.

-80% of drowning deaths are males.

-In 2007, there were an average of 10 drowning deaths each day in the US alone.

-In 2007, among children 1 to 4 years old who died from an unintentional injury, almost 30% died from drowning.

-For every child who dies from drowning, another four received emergency department care for nonfatal submersion injuries.

-Among children ages 1 to 4 years, most drownings occur in residential swimming pools. Most young children who drowned in pools were last seen in the home, had been out of sight less than five minutes, and were in the care of one or both parents at the time.

Here's the good news:  Participation in formal swimming lessons can reduce the risk of drowning by 88% among children aged 1 to 4 years (source).
Both of our boys (4 years and 2 years) recently started taking swimming lessons at a local swim club. Prior to this, Big Brother had loosely participated in a toddler swimming class. After brushing up on these alarming facts on drowning (especially since we have a pond in our backyard), I am upset with myself for not starting these lessons sooner!
The swimming lessons the boys are taking are hard-core. In fact, they ask that parents don't even watch for the first few sessions because it distracts the kids and often makes them emotional. The instructors are tender with the emotions and feelings of the children but they also realize that the reason they are there is to learn how to swim…and learning to swim could save that child's life someday.
If you don't have your child enrolled in swimming lessons, I would HIGHLY recommend it! If you are unable to afford swimming lessons, check with your local YMCA, fitness club, or parks & recreation department to see if they have any discounts available. You could even ask grandparents and family members to give swimming lessons as a birthday/Christmas gift instead of toys!
*If this post resonated with you, would you consider sharing it with others? I had no idea of some of these statistics until I started researching it…EVERY parent needs to know this information!